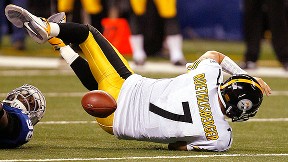 Brian Spurlock/US Presswire
The Patriots hope to keep Ben Roethlisberger on the ground like this often on Sunday.That No. 7 might as well be a bull's eye on the back of Steelers quarterback Ben Roethlisberger as the Patriots will hope to hit him early and often Sunday:
When it was suggested that Steelers quarterback Ben Roethlisberger was comparable in size, Albert Haynesworth's brow furrowed a tiny bit but he didn't object to the insinuation.

Standing 6 feet 6 inches and weighing 350 pounds, few players in the NFL are as big as Haynesworth. But having tried (unsuccessfully) to wrestle down the 6-foot-5, 241-pound Roethlisberger in the past, Haynesworth could understand the idea behind the suggestion.

"Even if you hit [Roethlisberger], you might not take him down," said Haynesworth, the same guy who earlier this season hauled down Miami running back Reggie Bush with just one arm while falling to the ground, showing just how difficult it is to shake free from his grasp.

"[Roethlisberger is] a guy that can break a lot of tackles, get away from the rush," Haynesworth said. "Even if you hit him and he's going down, he can still throw the ball. With him, you definitely have to emphasize finishing the [pass] rush and finishing the tackle."
Hop HERE to read the full story.
Tackling Big Ben is just one of the key areas of focus for the Patriots on Sunday. Another? Pass protection in the spread offense:
If past matchups are any indication, the Patriots will have the spread offense as a big part of their attack in hopes of neutralizing the Steelers' attacking defense and safety Troy Polamalu's ability to disrupt plays as a blitzer. To do so, they'll need to protect quarterback Tom Brady with limited help. If the offensive line can do that, the Patriots should have favorable matchups with their pass-catchers, with tight ends Rob Gronkowski and Aaron Hernandez big parts of that. Outside linebacker LaMarr Woodley has seven sacks, 5.5 of which have come in the last three games.
Hop HERE to read the full story.