PITTSBURGH -- Patriots tight end Rob Gronkowski is certain he was in the end zone when he hauled in a pass from Tom Brady with little more than four minutes remaining in Sunday's 25-17 loss to the Steelers at Heinz Field.
But Gronkowski also knows that, with the Patriots trailing by two scores and attempting to rally in the final minutes, the team couldn't afford to potentially risk a timeout in order to review the play. But while New England ultimately punched in the score, it took nearly 90 additional seconds to do such, costing the team valuable time that might have prevented the opportunity to come from behind.
"It's such a quick situation -- that was the call, we just have to move on," said Gronkowski. "We needed the timeouts, so you can't even risk it. I mean, that's what the ref called, so we just moved on. We eventually scored, which is good, but, throughout whole game, we gotta play as a team better, we gotta execute better out there."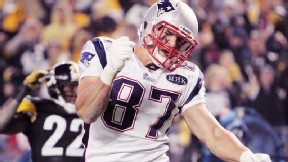 Charles LeClaire/US Presswire
Rob Gronkowski wasn't so emphatic when officials ruled his 4th-quarter grab short of the end zone."I thought about it, but there was no evidence to challenge it," head coach Bill Belichick said after the game. "I certainly couldn't see it from my angle and they replayed the play in the box. There was nothing to tell us."
Gronkowski was ruled short of the goal line on an 8-yard grab, setting up 3rd-and-1, and not only did Kevin Faulk get turned away on another short pass, but it took the Patriots nearly the entire play clock to get that play off. On fourth down, Gronkowski got held, giving New England a new set of downs. Finally, with 2:35 to play, Aaron Hernandez caught a 1-yard touchdown pass from Brady to pull the Patriots within six at 23-17.
Short on time, New England elected to go for an onside kick, and even though they eventually got the ball back with a final gasp, Brady was sacked leading to a safety that sealed Pittsburgh's triumph.
Did Brady think Gronkowski was in the end zone?
"It's not really up to me," said Brady. "I don' know how it looked on TV."
Informed it was close, he smiled and considered how to properly phrase his opinion.
"I wish they'd have reviewed it," said Brady. "But they didn't. We kept fighting until the end, like we always do."