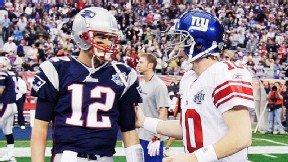 AP Photo/David J. Phillip
Sunday's QB matchup: Tom Brady vs. Eli Manning
Setting the table for Sunday's Patriots-Giants clash with our game preview and key areas to watch:
STREAKY HOT PATS LAY IT ON LINE
New England actually has much more going for it Sunday than a history of avoiding consecutive losses. The Patriots have won 20 straight regular-season games at Gillette Stadium -- tied for the fourth-longest home streak in NFL history (the 1971-74 Dolphins hold the record at 27) -- and Brady has won an NFL-record 31 straight at home.

The last NFC team to beat the Patriots in Foxborough? You'd have to go back to a 28-10 loss to the Green Bay Packers on Oct. 13, 2002, a stretch of 18 straight nonconference games.

In a season in which past success has meant little for New England -- remember that 15-game streak against the Bills, or how Tom Brady had owned the Steelers? -- those streaks will do little to bring back the part of the fan base that's already standing close to the ledge.
Hop HERE to read the full story.
THINGS TO WATCH: PATS VS. GIANTS
Pass protection against Giants' D-line: Just as it was in Super Bowl XLII, the game within the game is whether the Patriots' offensive line can hold up against the Giants' pass rush. Patriots blockers said part of what makes the Giants unique is their ability to consistently pressure with the standard four rushers, giving them the luxury to drop seven into coverage. The Patriots have surrendered 10 sacks over the past three games.
Hop HERE to read the full story.