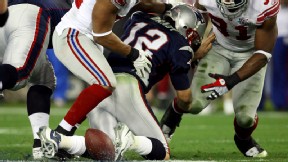 Matthew Emmons/US Presswire
Quarterback Tom Brady threw two interceptions and committed a fumble vs. the Giants.One season after setting an NFL record with just 10 turnovers, the Patriots already have a whopping 14 this season -- which helps explains their slide:
Since the start of the 2001 season, the Patriots have committed only 236 turnovers in 168 games, the lowest total in the league. The Patriots have averaged a mere 1.4 turnovers per game during that span, while the league average is 1.74 turnovers per contest, according to ESPN Stats & Information.

Doesn't sound like much, right? But that difference averages out to 5.3 fewer turnovers per 16-game regular season. That undoubtedly makes a difference in the win column by season's end.

And, wouldn't you know it, the Patriots are averaging 1.75 turnovers per game at the midway point of the 2011 season. No wonder they've looked average at times.

If there's good news for the Patriots, it's that the majority of their turnovers have come in bulk. Twelve of those 14 turnovers came in three games, against the Bills, Dallas Cowboys and New York Giants. The Patriots lost two of them and needed a touchdown in the two-minute drill to escape against Dallas.

Amazingly, the Patriots have never had a season with three games of at least four turnovers since 1999, or before Belichick arrived. Much of the team's sustained success this decade can be traced in large part to avoiding giving the ball away.
Hop HERE to read the full story.
[Your turn: What do you think is the biggest problem for the Patriots during their struggles? Sound off in the comments.]