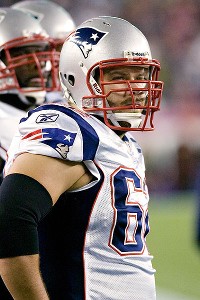 Icon SMI
Patriots backup offensive lineman Ryan Wendell.Offensive linemen typically only get attention when they mess up (penalties, missed blocks, bad snaps), so there's a good chance many observers didn't even notice Ryan Wendell sub in at center for a couple series during Sunday's loss to the Giants.
While Patriots coach Bill Belichick suggested Tuesday that Wendell's playing time had more to do with a desire to get the fourth-year interior lineman on the field, it was hard not to notice that his first appearance Sunday came the series after a bad shotgun snap by starting center Dan Connolly. Wendell, who also served as short-yardage fullback, played another full series at center later in the game.
"We have confidence in both Ryan and Dan," said Belichick. "Ryan, unfortunately, hasn't had the opportunity to play a lot this year, he missed most of training camp. We feel like he's a good enough player that would deserve an opportunity -- he plays [fullback] in goal-line situation, things like that. Going forward, if we get the opportunity, and depending on how he performs through his opportunities, we may or may not see more of that.
"But I'd say it's more of a case of him as a player as opposed to Dan's performance. Dan's done a good job for us. He's played well all year [and] came in for [injured center Dan] Koppen in first game. But Wendell's a good player, too. I think he's more than just an emergency-type player. He can help us, too. We'll see how it goes."
After a rock solid start to the season by the offensive lineman (allowing only two sacks over the first four games), the unit has been under scrutiny for allowing 13 sacks over the past four games. According to analytical site Pro Football Focus, the Patriots have allowed 21 quarterback pressures over the lat three games (seven in each), and line penalties (most notably false starts) have been alarming as well.