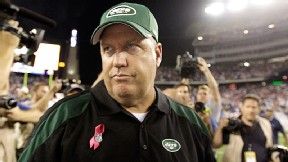 AP Photo/Stephan Savoia
Rex Ryan walks off the field at Gillette Stadium earlier this season.
FOXBOROUGH, Mass. -- Rex Ryan? A big Patriots fan?
Well, in a case where art does not represent real life, Rex Ryan, the vocal, self-confident coach of the New York Jets, the New England Patriots' chief divisional rival these days, will be playing a role as a big Pats fan in an upcoming Adam Sandler movie.
Ryan recently filmed his scenes in the movie, and the loquacious coach said he definitely was playing against type.
"It was a stretch, no doubt, but it was great, a lot of fun," said Ryan with a chuckle Wednesday on a conference call to the New England media in advance of the crucial Pats-Jets clash in New Jersey on Sunday.
Ryan, the man who said when he was hired that he wasn't going to "kiss [Patriots coach Bill Belichick's Super Bowl] rings," was filmed in an office that featured, among other sports memorabilia, a poster of Tom Brady and a Belichick bobblehead.
"They had a lot of Red Sox stuff in there, a lot of Patriots stuff all over the place, even Bruins stuff," said Ryan. "Quite honestly I'm not a fan of any of those Boston teams."
He didn't go home with any of the Boston items.
"For some reason I think [the Belichick bobblehead] got knocked over and broke into several pieces," said Ryan, before adding after a pause, "Just joking."
Just don't expect Ryan to be using a Bahstun accent when he speaks in the movie.
"No chance. That would be the worst," said Ryan. "I did not overact."