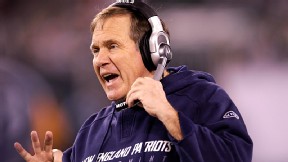 AP Photo/Julio Cortez
After Sunday's big win, it's still one game at a time for the Patriots and coach Bill Belichick.The Patriots have a clear road to the playoffs and the AFC East title, but don't tell that to Bill Belichick:
From now until New Year's Day, the toughest challenge facing Patriots coach Bill Belichick and his staff will be keeping their team focused on a slate of opponents in which only the stumbling Buffalo Bills (5-4) currently boast a record above .500 (and by Week 17, that game will be an afterthought unless the Bills get back on track).

The Patriots' upcoming opponents are not just battered, they're bruised. Over the next three weeks, New England is expected to face the Matt Cassel-less Chiefs, the Peyton Manning-less Colts, and maybe even the Michael Vick-less Eagles depending on the extent of his rib injury.

After that? Will Tim Tebow still be all the rage by the time the Patriots trek to Denver? Albert Haynesworth's release last week rendered a visit to Washington decidedly less intriguing. And the AFC East crown could be in hand by the time the Dolphins and Bills visit Gillette Stadium to wrap up the season.

New England's seven remaining opponents have a woeful .328 winning percentage with a combined record of 21-43. Five of the seven teams lost this past weekend and the two that won were going head-to-head with another team on the Patriots' second-half schedule.
Hop HERE to read the full story.
[Your turn: Which remaining game is most intriguing to you? Can the Patriots remained focus despite the easy schedule? Sound off in the comments.]