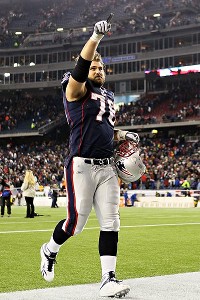 Elsa/Getty Images
Sebastian Vollmer has been impressive after returning from a back injury.Inactive for five of New England's first six games this season due to a back injury, Patriots offensive tackle Sebastian Vollmer appears to be returning to the form that made him a second-team All-Pro last season.
Vollmer looked shaky while returning to the field in Week 8 against the Steelers. He rotated at right tackle with rookie Nate Solder, but allowed both a quarterback pressure and a sack in just 38 snaps. He's turned it on in a hurry ever since. Over 148 snaps the past two weeks against the Giants and Jets, Vollmer has allowed no sacks and just one quarterback pressure and one quarterback hit, according to stats logged by analytical site Pro Football Focus.
Vollmer, who was shaken up briefly against the Jets, but missed only a handful of plays, was on the field when the Jets generated a safety in Sunday's game. He seemed to expect a potential blitz from the outside and potentially could have done more to slow the defensive end, but it was running back Danny Woodhead who ultimately failed to pick up the rush that forced quarterback Tom Brady to throw the ball away in the end zone.
Asked about Vollmer's progress on Tuesday, Patriots coach Bill Belichick offered praise for his recent performances.
"I think Sebastian has done a good job for us," said Belichick. "He's gotten a lot of reps since the bye week. It seems like he kind of turned the corner. I mean he was improving steadily, but it looked like he was finally able to turn the corner there around the bye week and after the bye week. It's good to have him out there. He's certainly a good player, one of our best players. He's a physical player, he's long, he really does most everything well on the field.
"It's good to have him back out there. It certainly makes us a better football team now that he's back on the field. Not that Nate [Solder], I'm not saying that as any commentary about Nate because Nate's done a good job for us too, I'm saying having another good football player and, at times, all three of them are out there with Nate, Matt [Light] and Sebastian, that's good too."