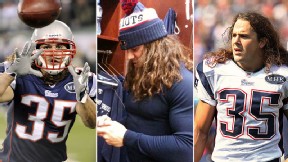 AP,ESPN,Getty
Patriots safety Ross Ventrone.For Patriots safety Ross Ventrone, who's been involved in 15 roster moves since August, the world can flip in a hurry:
As for how he takes the news each time a transaction is made, especially when he's released, Ventrone tries to keep his head up.

"I don't get discouraged," he said. I just keep working hard. I know things work out the way they do sometimes, the numbers system [needing players at] different positions, and I just hope they do bring me back. They have so far."

Every time Ventrone is released, it's possible for another team to claim him. He said he hasn't truly considered what it would be like if that happened.

Yes, he gets text messages from friends who rib him at times as one of the most hired-then-fired NFL employees, but he's conditioned to ignore them at this point.

"To me, I'm just glad I'm here, glad to be helping the team," he said.
Hop HERE to read the full story.