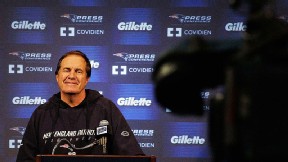 AP Photo/Stephan Savoia
Caught on the NFL roller coaster? Not Patriots coach Bill Belichick.Fans may have their ups and downs, but Bill Belichick won't let the Patriots get caught in the waves:
Amidst a backdrop of fan anxiety, the Patriots went out and throttled the New York Jets by three touchdowns to sweep the season series, handing New York one of two losses in five days that dropped Rex Ryan and Co. to .500. On Sunday, the Buffalo Bills lost their third straight game, dropping them to 5-5 as well.

Suddenly, the Patriots head into Monday night's matchup with the Kansas City Chiefs -- the start of the NFL's easiest schedule over the final seven weeks of the season, one in which no opponent currently has a winning record -- with a chance to open a two-game lead atop the AFC East.

Now there are whispers about whether this team is Indianapolis bound, and we don't mean to advance scout for a Week 13 visit from the winless Colts.

Yes, the old expression suggests that if you don't like the weather in New England, wait a few minutes. The same can be said for the temperature of New England's football team.
Hop HERE to read the full story.