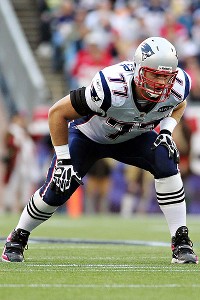 Stew Milne/US Presswire
Rookie Nate Solder has carved out a role as a third tight end.
FOXBOROUGH, Mass. -- The Patriots' offense was stuck in neutral on its first four drives against the Chiefs, before going touchdown/field goal/touchdown/field goal to put the game out of reach.
One of the noticeable changes was using rookie offensive tackle Nate Solder as a tight end.
On the first touchdown drive, he was on for five of six plays in that role. On the second touchdown drive, it was six of nine plays. And on the final field-goal march, it was five of eight plays.
Offensive coordinator Bill O'Brien noted that the Patriots liked the personnel matchup against the Chiefs with Solder in the game (it looked like the Chiefs countered with their base 3-4). While it opened up play-action possibilities and put extra attention on dangerous Chiefs outside linebacker Tamba Hali, it also helped the Patriots establish a physical edge in the running game, which they stuck with throughout.
Overall, Solder played 20 snaps as a tight end, which included one play in which he released into a pass pattern. Here is how they broke down:
Passes: 5 of 6 for 105 yards, 2 TDs
Runs: 14 for 62 yards (4.4 avg.)
Lined up left: 6
Lined up right: 11
Used in motion: 3
NOTES: Solder was one on one as a pass-blocker against Hali on Rob Gronkowski's 52-yard catch-and-run touchdown. He had lined up to the right of right tackle Sebastian Vollmer and pushed Hali wide as Tom Brady stepped up in the pocket. ... On Gronkowski's 19-yard touchdown catch, Solder released into a pass pattern, then turned back toward the sideline to deliver a block to help clear Gronkowski's path to the end zone. It was the only play he ran a pass pattern in the game; the others had him staying in to block. ... Solder's impact in this area could be negated this week if he is thrust into the starting lineup at offensive tackle, as expected, with left tackle Matt Light injuring his right foot.