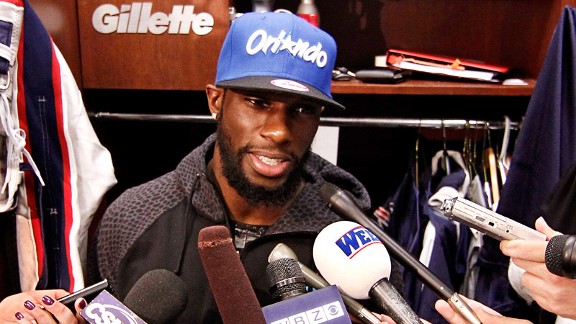 AP Photo/Winslow Townson
Kyle Arrington chats with reporters Wednesday at Gillette Stadium.Patriots cornerback Kyle Arrington, who was cut by the Eagles, will face his ex-team as the league leader in interceptions on Sunday in Philadelphia:
In the first return of Pro Bowl fan balloting, Arrington was third in the AFC behind New York's Darrelle Revis and Kansas City's Brandon Flowers. He had 22,259 more votes than Asomugha, who was third in the NFC.

And with good reason: Arrington is having a phenomenal season -- and not just because of the seven interceptions, many of which have been the result of him being in the right place at the right time, particularly on tipped passes.

According to the analytical site Pro Football Focus, Arrington is second in the NFL, behind only Revis, in quarterback rating when thrown at with a 41.3 mark. Samuel is eighth at 54.2, and Asomugha is 14th at 64.9. Arrington also is seventh in completion percentage (45.3) of targeted passes; Samuel is third at 41.2, Asomugha is 22nd at 54.8.

Arrington simply smiles when asked if he's thought about garnering a Pro Bowl invitation.

"I'm not going to lie and say I haven't," Arrington said. "It would be nice to go to Hawaii, but Indianapolis would be a whole lot nicer." Indianapolis, of course, is the site of this season's Super Bowl.
Hop HERE to read the full story.