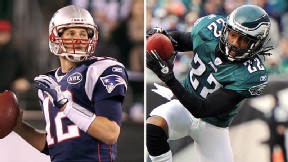 US Presswire
Former teammates Tom Brady and Asante Samuel will resume their rivalry Sunday when the Patriots meet the Eagles. Patriots quarterback Tom Brady and his teammates know better than anyone that Eagles cornerback Asante Samuel is still a game-changer:
Philadelphia Eagles cornerback Nnamdi Asomugha was on a conference call with the New England media this week -- one that old friend Asante Samuel punted on being a part of in advance of his first regular-season meeting with his old team on Sunday -- when the former Patriots cornerback came up.

Asomugha chuckled as a voice in the background -- maybe even belonging to Samuel -- could be heard interjecting.

"He's a funny guy," Asomugha said. " I don't know how he was when he was over there with you guys, but here he's just been loud and the guy that's always running around yelling something or doing something where everyone is watching him and stuff like that. It's fun being around him."

Oh, to be sure, there were fun times for Samuel in New England. His final year with the Patriots might have been his finest, as he earned the first of what's become four consecutive Pro Bowl honors and aided New England in putting together a 16-0 regular-season record.

But things didn't end so well. The last (and lasting) image most Patriots fans have of the ball-hawking Samuel is a potential interception clanging off his hands with little more than a minute to play in Super Bowl XLII against the New York Giants. You know how that ended.
Hop HERE to read the full story.