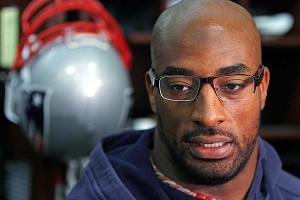 AP Photo/Charles Krupa
Andre Carter asked for his release from Washington, and coach Mike Shanahan says it was granted because Carter "was such a class guy."As Patriots defensive end Andre Carter preps to play his former team on Sunday, both sides offered high praise for him:
Veteran defensive end Andre Carter was the man of the moment Wednesday at Gillette Stadium, and he graciously played the role.

Carter has been around the NFL block long enough to know how things work. The 11-year veteran is in his first season with the New England Patriots after spending five with the Washington Redskins, and the Patriots visit the Redskins on Sunday at FedEx Field.

He knew he'd be in demand and he was giving of his time, making himself available as the locker room doors swung open to reporters at 11:15 a.m. and spending about 20 minutes answering questions. Then he plunked down in his chair, pressed his cell phone against his ear, and dialed up the media in D.C. for the weekly opponents' conference call. He didn't stop until everyone's desires were met.

Such media relations won't help Carter much Sunday at 1 when he's attempting to break through the line of scrimmage and register his 10th sack of the season, but they are reflective of the type of player Bill Belichick brought into the team's locker room after signing him to a one-year, $2.25 million contract Aug. 8.

Carter's upbeat, passionate about football, and understands that some weeks present additional responsibilities that help promote a game that has been good to him. Good luck finding anyone who doesn't have a good word to say about the 32-year-old Carter.

"He's been such a pleasure to have on this team and he's added a lot to our football team in a lot of different ways," said Belichick, who has quickly come to appreciate Carter's professionalism, attention to detail, and his peak physical condition.
Hop HERE to read the full story.