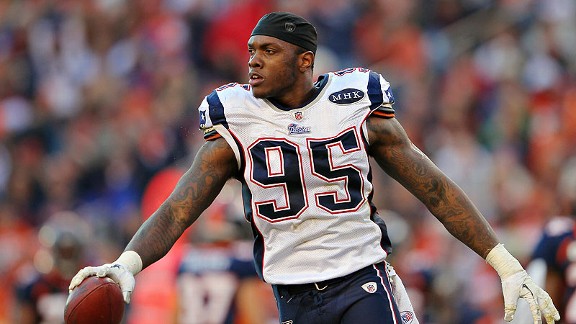 Doug Pensinger/Getty Images
Patriots defensive end Mark Anderson emerges with the ball (and no helmet).DENVER -- As referees cleared players off the pile, Mark Anderson emerged from the bottom with the football, but without his helmet. It was the ball that mattered to him.
Moments earlier, Anderson had produced a strip-sack of Denver quarterback Tim Tebow and, spotting the ball as they tumbled to the turf, Anderson wasn't going to be satisfied unless he pounced on the pigskin.
Doug Pensinger/Getty Images
Anderson with the strip-sack of Tim Tebow."Oh man, I don't know what happened, I think one of the players must have pulled my helmet off or something," he said. "Once you're in that pile, anything goes. I just made sure I secured the ball and got a turnover for our offense."
It was Denver's second fumble in four plays (and they'd put a third on the ground a short time later). The Patriots turned those three fumbles into 17 points while rallying from an early hole en route to a 41-23 triumph at Sports Authority Field at Mile High.
Anderson produced two sacks on the day and helped the Patriots crank up the pressure on Tebow, particularly in the second half. After defensive end Andre Carter went down with a left knee injury in the first quarter, the Patriots needed guys like Anderson to step up.
"Andre is usually a very vocal leader on our team, everybody looks up to him, he's been there before and he's a great player," Anderson said. "So losing him was very critical. Everybody just stepped up."
Anderson dropped Tebow for a 10-yard loss late in the third quarter, stalling a drive that had reached midfield. The Broncos ultimately punted and New England responded with an eight-play, 85-yard scoring drive that put them on top 34-16 and essentially sealed the victory.
If Carter is sidelined moving forward, Anderson could see his role increased even more (something that's happened steadily this year anyway). Anderson now boasts nine sacks on the season. With one more sack, Anderson and Carter will become the first pair of Patriots with double-digit sack totals in one season since Andre Tippett (16.5) and Garin Veris (10) in 1985. It has happened only one other time in Patriots history, according to the team, with Tony McGee (12) and Ray Hamilton (10) in 1977.