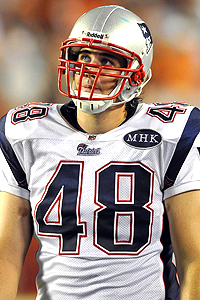 Steve Mitchell/US Presswire
Patriots long snapper Danny Aiken.FOXBOROUGH, Mass. -- In the world of the long snapper, staying away from the spotlight usually means the job is getting done right. That's the way it's been for rookie Danny Aiken in his first season with the Patriots.
The Patriots claimed Aiken on waivers from the Bills on Sept. 4 and he's quietly put together a consistent season at the spot long held by Lonie Paxton, but which has been a revolving door of sorts since Paxton signed with the Broncos as a free agent in 2009.
Aiken, who snapped at Virginia and was not selected in the 2011 NFL draft, was part of a competition with third-year player Garrison Sanborn in Bills training camp. It was a competition that Bill Belichick said the Patriots watched closely because they had interest in Aiken coming out of the draft.
Aiken shared some thoughts with ESPNBoston.com this week:
The season wraps up with a game against the Bills, the team you were with in training camp. Has that thought crossed your mind?
"You don't really think about that kind of thing. Each day, you come in and you're just focused on that time, how to prepare to the fullest to help your team win that week. Each week there is always something new to learn."
When you went to camp with Buffalo, could you have envisioned your rookie year would turn out like this? What did you learn in Buffalo?
"You never can see that. You just do what you can, and don't worry about what you can't control, taking each day at a time. In Buffalo, it was about the experience of being in the NFL, you see what the next level is like."
How would you describe the competition with Garrison Samborn?
"It's always competitive, but he had been there doing it, so you watch him and know that he had been getting it done to make a team. So you're learning from that."
How would you describe the field-goal and punting operation with Stephen Gostkowski and Zoltan Mesko?
"It's been good. You come out and you're working with them every day, those are your partners, your friends. They're good guys, easy to talk to. They've been there, so it's nice to have that experience [to lean on] and be a part of this with them. Going into anything new, especially with the experiences they've been through, they help you with how to handle certain things."