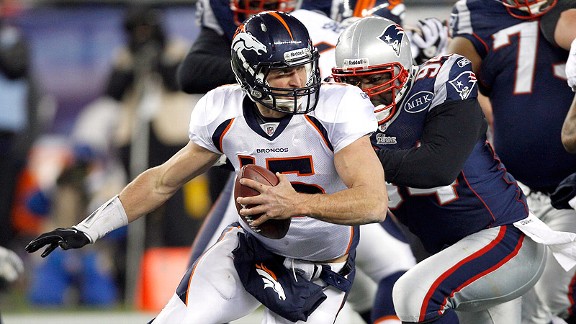 AP Photo/Charles Krupa
Patriots defensive lineman Shaun Ellis prepares to sack Denver quarterback Tim Tebow.FOXBOROUGH, Mass. -- Last week, Broncos quarterback Tim Tebow nearly took down Twitter after Denver's overtime victory over the Pittsburgh Steelers in the wild card round of the AFC playoffs (the accomplishment produced the most tweets per second ever for a sporting event). On Saturday night, Patriots defensive end Shaun Ellis found himself trending on the popular social media site after his take down of Tebow during New England's 45-10 thumping at Gillette Stadium.
Ellis laid a rare monster hit on Tebow midway through the third quarter, producing a 5-yard sack that left those watching the game rushing to their phones to comment on the play. For his part, Ellis was disappointed he hadn't corralled Tebow earlier, the elusive quarterback shaking free at the start of the play before Ellis recovered and delivered a blind-side shot.
"It felt good," Ellis admitted. "I should have gotten it at the beginning [of the play]. It shouldn't have even came to that, but [Tebow] kept the play alive, and I was able to finish it after my teammates forced him back my way."
Ellis finished with only that one tackle, but aided the defense in limiting the Broncos to just 252 yards of total offense. After Tebow and the Broncos gouged New England for a similar number in the first half alone last month in Denver, Ellis took great pride in what the defense accomplished Saturday.
"They gave it to us pretty good that first half [in Denver]," Ellis said. "We were able to come out and kind of control them a little bit, and just get it done."
Ellis, who saw his snaps evaporate near the middle of the season, has rebounded to become a more frequent contributor in recent weeks.
"Just waiting my turn, just continuing to get better," he said. "When my number is called, I just go out there and play."
And all it took was one hit to get the world of Twitter to take notice of his presence.