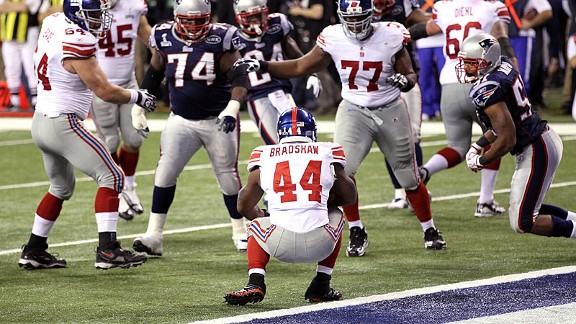 Andy Lyons/Getty Images
Ahmad Bradshaw was supposed to stop short of scoring the touchdown late in the fourth quarter.INDIANAPOLIS -- Linebacker Jerod Mayo admitted Sunday night that of all the events that transpired in Super Bowl XLVI, one of the most unusual had to be allowing Ahmad Bradshaw to score on purpose in the waning minutes of the game so the Patriots could get the ball back.
Asked by one New York reporter how it was that Bradshaw had such a clear path to the end zone with 57 seconds left to play, Mayo said, "We were trying to let him score. That's situational football. We needed Tommy (Brady) to get the ball and do his thing.''
Bradshaw looked as startled as anyone to have such an easy jaunt. He got to the goal line, then hesitated, turned his back to the goalpost, then fell backwards into the end zone.
According to Bradshaw, the Giants didn't discuss in the huddle the possibility of New England allowing them to score, but he said, "Eli (Manning) was telling me to go down before I could even get the handoff. As he was handing the ball off he was like, 'Don't score! Don't score!' It clicked right at the 1-yard line and I tried to get myself down but I fell in.''
Mayo said he couldn't believe their good fortune when Bradshaw went in to score.
And what if the Giants running back had purposely stopped at 2 or 3-yard line?
"We were going to drag him into the end zone,'' Mayo reported. "That's what we were taught to do.''
Bradshaw admitted he experienced some significant anxiety when Brady hit Deion Branch for a sideline pass on that final drive to move the chains.
"I was so anxious. I was nervous and I was shaking,'' he said. "Just to have the ball in his hands in a tough situation -- it's scary.''