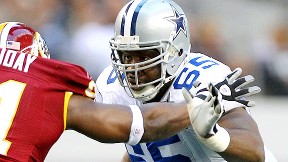 Matthew Emmons/US Presswire
Andre Gurode at work for the Cowboys.
The Patriots will host free-agent center Andre Gurode on a visit on Saturday, a league source confirms. Gurode is not scheduled to work out on his trip to town.
The 32-year-old Gurode played for the Cowboys from 2002-2010, appearing in 138 games with 122 starts. He was released by the Cowboys on Monday, and was due to earn a base salary of $5.5 million in 2011.
The 6-foot-4, 335-pound Gurode, who has drawn interest from other clubs since Monday, had knee surgery in late June and missed a week and a half of training camp.
One twist to the Patriots' possible interest in Gurode is his past with defensive lineman Albert Haynesworth. In 2006, Haynesworth stomped on Gurode's head after Gurode's helmet had come off.
The Patriots have depth concerns along the interior of the offensive line, with starting right guard Dan Connolly (ankle) and top backup Ryan Wendell (calf) sidelined. Gurode's first position is center, but he could be an option at guard.
Ian Rapoport of the Herald first reported the Patriots' interest in Gurode.