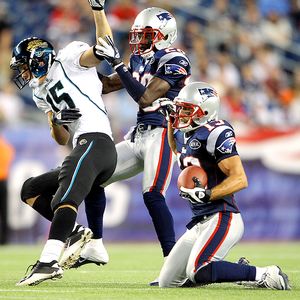 Elsa/Getty Images
Buddy Farnham produced an interception in Thursday's game.FOXBOROUGH, Mass. -- He's officially designated a wide receiver, but like so many of the young players on the Patriots' roster, Buddy Farnham is trying to use his versatility to earn a job.
The 24-year-old Farnham, who spent part of last season on the Patriots' practice squad, aided that cause in Thursday night's exhibition opener against the Jacksonville Jaguars by putting his pass-catching skills to work on defense as he recorded a fourth-quarter interception while playing safety.
"I'm a football player," said Farnham, an Andover, Mass. native who played his college ball at Brown. "I'll play whatever's best for the team, whatever the coaches tell me to do."
In his more familiar position, Farnham added three receptions for 34 yards, including a 25-yard grab. But it was the interception that everyone was talking about after the game, which left some of the defensive backs playfully chiding third-year safety Patrick Chung, who saw an interception opportunity clang off his facemask in the first half.
"I actually got a joke about that, too: [Farnham's] going to show me how to catch the ball tomorrow," Chung said with a laugh. "No, he's a good guy, a good player. You see him playing both sides of the football field, so it's good. Good stuff."
Coach Bill Belichick, typically stoic on the sideline, seemed particularly excited for Farnham as he came off the field following the pick, but Farnham doesn't remember what the Patriots' leader told him in the moment.
"I don't even know [what Belichick said]," Farnham said with a smile and a shrug. "I was just happy."
Belichick did reference the moment in the opening of his postgame press conference, noting, "Buddy stepped in there -- we've got a receiver leading the team in interceptions. It will be a point of embarrassment for the defensive backs, but it's alright; they deserve it."