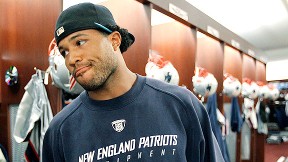 AP Photo/Steven Senne
Josh Barrett knows the Patriots safeties have to play better moving forward.
The Patriots showed a lot of confidence in safeties Josh Barrett and Sergio Brown entering the 2011 season, but they need more from the duo to aid a struggling defense:
When the New England Patriots made the decision earlier this year to move forward without veteran safeties Brandon Meriweather and James Sanders, their actions suggested confidence in the young tandem of Josh Barrett and Sergio Brown.

Yet Barrett, a third-year player, and second-year man Brown had combined for a mere 379 total defensive snaps during their NFL careers (Barrett 285, Brown 94), according to data logged by analytical site Pro Football Focus. By comparison, Meriweather (952) and Sanders (819) played 1,771 total snaps for the Patriots last season alone.

While there have been some bright spots for both Brown and Barrett over the first three weeks of the season, a particularly rough weekend in Buffalo left some pundits openly grumbling about whether the Patriots made the right personnel decisions in their secondary.

Barrett and Brown have combined to play 76.4 percent of New England's defensive snaps this season, logging five starts between them. They've been part of a secondary that's been gashed for a league-worst 377 passing yards per game, and a lack of impact plays (Brown did have a nice interception against San Diego) has the pair in the spotlight after the Patriots' first loss of the season.
Hop HERE to read the full story.