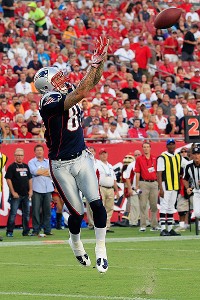 AP Photo/Chris O'Meara
Tight end Aaron Hernandez goes up for a grab last season.The Patriots raised some eyebrows by carrying only two tight ends -- second-year players Rob Gronkowski and Aaron Hernandez -- out of last Saturday's final cutdown. Sure, the two rookies were outstanding last year, combining to catch 87 passes for 1,109 yards and 16 touchdowns, but the Patriots often utilized multiple tight end sets last season, which made it surprising that the team didn't have additional depth.
If the Patriots were hoping to sneak some young tight ends through waivers with eyes on a practice squad spot, that got blown up by AFC East rivals as the Bills (Lee Smith) and Dolphins (Will Yeatman) intervened. The Patriots ultimately signed Gronkowski's older brother, Dan, this past week to provide an extra body at that position (and a player that can contribute on special teams).
How important is that third tight end? Consider this: Veteran tight end Alge Crumpler appeared on 604 snaps in 2010, more than half (53.4 percent) of the Patriots' total offensive snaps. Crumpler let the youngsters do the bulk of the pass catching -- grabbing only six passes for 52 yards and two touchdowns -- but played an integral role as a glorified offensive lineman. According to stats site Pro Football Focus, Crumpler served as a run blocker (365 snaps) and pass blocker (98 snaps) on 76.7 percent of his total snaps (meaning he released into pass patterns less than 1 out of every 4 snaps he was on the field).
Although he's only officially been with the Patriots since Wednesday, there's a pretty good chance we could see Dan Gronkowski serve a Crumpler-like role in Miami. According to PFF numbers, the older Gronkowski appeared on 303 offensive snaps for the Broncos last season with 67 percent of his snaps coming as a run (142 snaps) or pass (61 snaps) blocker. Like Crumpler, Dan Gronkowski was quiet statistically, catching eight passes for 65 yards without a score. Dan Gronkowski could also find himself as a blocker on kickoffs, a role Crumpler occupied in New England.
A few more tight end nuggets:
* According to ESPN Stats and Info, no team attempted more passes with two or more tight ends on the field than the Patriots during the 2010 season. And it wasn't even close. Brady alone attempted 81 more passes with two or more tight ends than the San Francisco 49ers, the next closest team.
* As Stats and Info guru Jeremy Lundblad pointed out in January of this year, the Patriots ran a total of 631 regular-season plays out of a two tight end sets in 2010, which was 173 more than the San Diego Charters, the next closest team.
* More from Lundblad: New England threw 99 more passes with two tight ends than any other team. Of their 56 offensive touchdowns, 37 came in these sets. Patriots tight ends combined for 18 touchdown catches, six more than any other team. And how about Rob Gronkowski? Inside the opponents' 40, the rookie was targeted 22 times. That resulted in 19 receptions and 10 touchdowns.
* One final thing: Keep an eye on how much time wide receiver Chad Ochocinco spends on the field in two tight end sets. According to ESPN Stats and Info, over the last three seasons, Bengals' quarterbacks completed 67.2 percent of passes to Ochocinco with similar personnel as opposed to just 53.9 percent with one or no tight ends on the field.