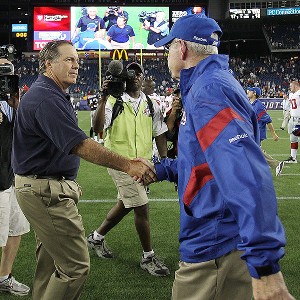 Jim Rogash/Getty Images
Bill Belichick and Tom Coughlin go back to their days as assistants together with the Giants.FOXBOROUGH, Mass. -- Asked this week about his history with Giants coach Tom Coughiln, Bill Belichick took a stroll down memory lane while recalling how the two worked together closely as assistants with the Giants in the late 80's -- Coughlin coaching receivers and Belichick working with the secondary while serving as defensive coordinator.
"Tom came to the Giants staff when I was already there; I was coaching the secondary and Tom was coaching the receivers," said Belichick. "That was a really a good situation for me. As a defensive backfield coach and a defensive coordinator... you work a lot with the receiver coach -- 1-on-1s, 7-on-7 drills and also you talk to each other about 'We're playing this technique -- What do you see, what can we do better or how would you attack it?' Tom and I had a good relationship and a good give-and-take on that. He would tell me things with our defensive backs – how they were trying to beat them, what they saw from this guy, how they would attack another defensive player with the same route, how they would run it differently on a different player. And the same thing: 'This is what I see from your receivers, this is how we're trying to play this guy, he really makes it easy for us on this route by doing this or doing that.' So it was good; it was constructive and it was good.
"Then of course after the '90 season, Tom came here [to coach at Boston College] and I went to Cleveland, so we haven't been together since then but we've had, whether he was there or in Jacksonville or in New York, or I was in Cleveland or I was in wherever I was before coming back here, we've always maintained a good friendship. He and his wife and his family have been friends for quite a few years. I coached the linebackers with the Giants for most of the time that I was there and then the last couple of years I moved over to the secondary, so it was good for me, because I had less experience in the secondary at that point [and] to be able to work with Tom and get a perspective on our passing game from the offensive side of the ball, that was good."
Later, Coughlin delved into the relationship during a conference call with New England reporters.
"Bill and I had a very, very good working relationship," he said. "This was one of those things where Bill was coaching the secondary, I was coaching the receivers, and we had a certain time or part of the day in which we could work against each other. We always had a really great attitude about helping each other and whatever we needed, we got from the other guy. If I was asked to demonstrate some routes or put ourselves in position where perhaps it might have some man coverage adjustments that the secondary needed to see and be able to adjust to, we were more than happy to do that. I really do feel like the way in which we worked was something that became, for our entire team, a good example for the rest of our coaches and players in terms of cooperating so that we might be the best that we could be. We worked well together, as I said. He's been a good friend and a guy that I have great respect for."
Despite that mutual respect, each side clearly wants to beat the other. Asked by a New York reporter if Coughlin was the type of coach Belichick didn't mind losing a Super Bowl to -- this after the Giants' victory in Super Bowl XLII spoiled New England's perfect 2007 season -- the Patriots helmsman responded, "I think you coach the Super Bowl to win it."
[Bonus link: More of Belichick's thoughts on Coughlin from ESPN New York's Giants Blog.]