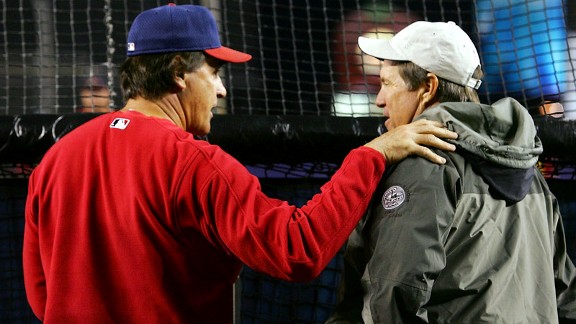 Jim McIsaac/Getty Images
St. Louis Cardinals manager Tony La Russa and Patriots coach Bill Belichick talk during the 2006 NLCS.If Patriots coach Bill Belichick looked bleary-eyed Friday morning, it wasn't all from breaking down film of the Pittsburgh Steelers.
Belichick acknowledged Friday that he stayed up late to catch an epic Game 6 of the World Series that saw the St. Louis Cardinals rally five times -- including from two runs down in both the ninth and 10th innings -- to top the Texas Rangers. Belichick, who would later parade through the locker room in the jersey of Cardinals coach Tony La Russa, will likely be back in front of the TV for tonight's Game 7.
Twitter.com/RealPatriots
Belichick in his La Russa jersey Friday in the Patriots' locker room."What a game, what a game," Belichick said of Thursday's battle in which the Cardinals were twice down to their final strike. "It's just behind five times... scored in the last however many, seventh, eighth, ninth, 10th, 11th. I'm happy for Tony and wishing him well tonight. That team has shown a lot of resiliency and physical toughness, mental toughness from being way behind in September and in the Series in various games. They've lost a couple games I'm sure they feel like they should have won. They've been able to bounce back from those and now it's a one-game season. It's two good teams. The Rangers are a good team, too. It's two good teams. Great series."
This isn't the first time Belichick's been spotted in his La Russa jersey in recent weeks. And he discussed his relationship with the Cardinals skipper on Friday.
"We have a couple mutual friends, one in particular," said Belichick, who often remarked about his friendship with former Red Sox coach Terry Francona. "It's good to talk to sometimes people in other sports. Coaching is coaching –- dealing with players, dealing with coaches, dealing with other situations. There is certainly a lot of common ground there. I'm fortunate to have a great relationship with a person like Tony or [University of Florida basketball coach] Billy Donovan or [Johns Hopkins lacrosse coach] Dave Pietramala, guys like that, that are real good coaches. Different sports, but again I think we share some common philosophies.
"Unfortunately, where Tony is at and where I'm at, there's not a lot of overlap. I've spent at least a day with him in spring training every year and that's always fun to watch. Unfortunately, I don't get to see him at this time of year because it's a whole different type of coaching and preparation and structure and everything. Seeing him at training camp and being able to connect a little bit with his team has been a good experience for me. I've learned a lot. I think he does a great job."