FOXBOROUGH, Mass. -- Dolphins cornerback Vontae Davis and head coach Tony Sparano held conference calls with the New England media Wednesday. Here's a handful of noteworthy soundbites on the Patriots: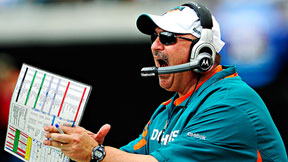 Sam Greenwood/Getty Images
Miami coach Tony Sparano at work.1. Hall of Fame for Ocho?: Asked to assess Patriots wide receiver Chad Ochocinco, Davis put the 11th-year wide receiver in Canton despite a quiet preseason. "Chad, he's still a good receiver... he's a future Hall of Famer, that's the kind of guy he is," said Davis. "I'm pretty sure New England will want to get him the ball as much as possible." Added Sparano: "Well, obviously you don't see a whole lot of him throughout the preseason, but I would envision they would use him in some part of a rotation there, probably try to get him in a few different spots. I'm sure it's part of the learning curve, just getting him in different positions to get him the ball."
2. Edds a victim of numbers in Miami: The Patriots scooped second-year linebacker A.J. Edds off waivers Tuesday after he was released by the Dolphins. Sparano said the team simply didn't have room to keep him around: "Just ended up being numbers, really," said Sparano. "He's a very smart player. We had 10 linebackers on the team and A.J. obviously missed a lot of time last year with the ACL [injury]. That was really was it." Pressed on his long-snapping abilities, Sparano added: "He has a good amount of long-snapping experience. He was a really solid backup long snapper and we actually had him do some of it in a preseason game this year."
3. Haynesworth a handful: Having coached against Albert Haynesworth numerous times in his career, Sparano knows what the defensive lineman brings to the table in New England. "He's a great player, an active player," said Sparano. "Another big, physical guy in there with Vince [Wilfork] and that group they have there. He can give you pass-rush ability, but more importantly, he's really active -- he's been around the ball in a lot of games. I've had several opportunities to play against Albert and he's been a handful."
4. Daboll benefits from time in New England: Miami first-year offensive coordinator Brian Daboll has three Super Bowl rings from his time in New England. Daboll, who joined the Patriots as a defensive assistant in 2000, worked with the wide receivers from 2002-2006. Said Sparano: "He's done a great job, we couldn't ask for anything more. He's done a super job and he's well prepared. You can see Brian's time with coach [Bill] Belichick and the Patriots there has served him well. Of course, he was on defensive side of the ball there, but that helps any young coordinator coming into our league, having experience on that side of the ball and seeing it from that end. Brian's done a great job and has lot of enthusiasm, and it rubs off on our players."