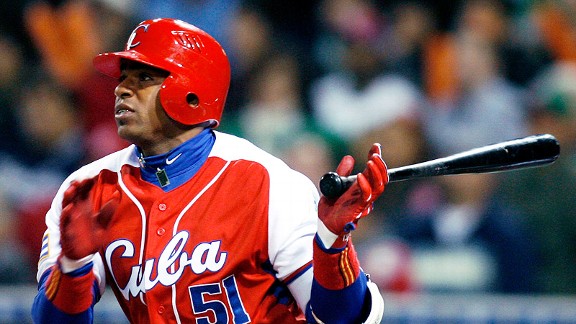 With a dearth of decent free-agent outfielders available, teams have been curious about 26-year-old Cuban defector Yoenis Cespedes, a slugger who is set to hit the market soon and is drawing a lot of interest.
Among the suitors are the Red Sox, who have sent several staffers, including general manager Ben Cherington, to check him out. The Sox have a void to fill in right field and as a right-handed hitter with pop, Cespedes would seem to fit what they're looking for.
But who is this international man of mystery? Other than a now-famous YouTube clip, we don't know much about him.
For that answer we turn to ESPN.com's Jerry Crasnick, who talks to scouts from across the league and tries to gauge just what kind of player Cespedes is and whether he's ready for the majors. The buzz in baseball circles, writes Crasnick, is that it will take north of $50 million to sign Cespedes, and in recent weeks the estimates have drifted considerably higher.
If a team is going to invest up to $50 million on Cespedes, what kind of production can they expect?
Dan Szymborski of the Baseball Think Factory tries to project Cespedes' numbers in an ESPN.com Insider piece. While acknowledging the difficulty of trying to translate his numbers from Cuba to the majors, Szymborski used the ZiPS projection system to deliver his best guess.
Based on Cespedes' Cuban career, ZiPS suggests that his profile is similar to players such as Kevin McReynolds, Mike Devereaux and Aaron Rowand. And going forward, it's not hard to see why Cespedes is so sought after. ZiPS projects him to be clearly better than any center fielder on the market, and while he doesn't project to be a star in any individual season, he may be able to catch that label in his better seasons.
Do you think the Red Sox should pursue Cespedes? And how much would you be willing to risk on him if you were Cherington? Vote in the poll above and share your thoughts in the comments section.