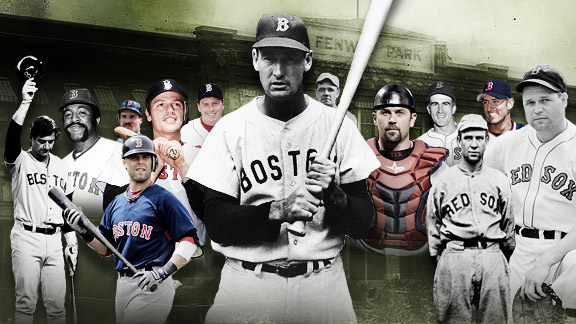 ESPN.com Illustration
Not to be lost in our Red Sox-Yankees season-opening hype is our new interactive feature that lets you pick your all-time Red Sox team.
Let 'er rip and give us your all-time team. Once we have enough entries, we'll take the most popular all-time Red Sox team and match it up against the all-time Yankees team, which fans can pick over at ESPNNewYork.com.
Some interesting tidbits from the early voting (this is just a snapshot, vote percentages can fluctuate):
-- 93.7 percent of all fans picked Pedro Martinez in their all-time starting rotation, more than Cy Young, who ranks second at 90.5 percent. Roger Clemens checks in third with 76 percent and Babe Ruth is fourth (27.2 percent). Curt Schilling ranks seventh (19.9 percent), Josh Beckett eighth (15.8 percent) and Tim Wakefield 10th (11 percent).
-- In the outfield, Ted Williams leads the way (duh) with 93.7 percent of fans picking him for one of the three spots. Carl Yastrzemski is second with 80.8 percent and Jim Rice (43.2 percent) and Manny Ramirez (41.8 percent) are in a tight race for the third spot.
-- At catcher, Carlton Fisk (73 percent) has a big edge over Jason Varitek (26.4 percent) in the early going.
-- Dustin Pedroia (45 percent) leads Hall of Famer Bobby Doerr (44.9 percent) by a nose at second base.
-- Nomar Garciaparra (68.3 percent) has a big edge over Johnny Pesky (23 percent) at shortstop.
Below, check out Tim Kurkjian's all-time Red Sox team: