KANSAS CITY -- Zack Greinke stood against the wall in the postgame press room at Kauffman Stadium, looking down at his shoes while his manager praised him. It may not have been comfortable for Greinke, but his manager pressed on, making the case for his star pitcher.
"I have a very difficult time thinking there's anybody in the major leagues ... as good a pitcher as Zack Greinke is in the year 2009," Royals manager Trey Hillman said.
[+] Enlarge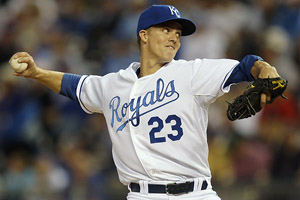 AP Photo/Charlie Riedel
Zack Greinke held the Red Sox to just twho hits over six innings, and has surendered just one earned run over his last five starts.
Greinke changed speeds, darted in and out of the strike zone, and threw almost everything he had at the Red Sox on Tuesday night, beating them 5-1 and improving to 15-8 this season. His ERA is now 2.08, he has allowed just one earned run over his last five starts, and he is the front-runner for the Cy Young award.
His night was made easier when Paul Byrd allowed five runs in the first inning. Byrd, who in 2002 was the last Royal to win 15 games in a season, pitched efficiently after the first inning.
"The first inning wasn't very pretty," manager Terry Francona said. "But after that he pitched great. He kept our bullpen intact."
While Byrd's 6 2/3 innings was a help to Boston's bullpen, he was certainly no Greinke.
"He had everything," Francona said of the Royals' ace. "That's impressive. Velocity, maybe the best slider in the game ... seeing it firsthand, that was impressive stuff."
In this decade, Pedro Martinez has been the only AL pitcher who has had an ERA below 2.50 at the end of the season, doing it three times but winning the Cy Young only once. Greinke will not make it to 20 wins, but it will seem difficult to deny him the award with the numbers he's posted. Against the Red Sox on Tuesday, he needed only six innings and 91 pitches, leaving the game, he said, because he was tiring.
The Red Sox batters didn't seem to think so.
"The radar gun and everything looked the same," Jason Bay said. "If he was a little tired, he didn't show it to us."
Greinke, who was hit by a line drive in the elbow during his last start, had a modest take on his night.
"I didn't feel as crisp," he said. "I didn't really use the curveball a lot. ... It wasn't amazing, but it was a good outing."
That was all he needed against Boston.
Martinez makes Sox history
The only two players who got hits off Greinke were Dustin Pedroia, who doubled in the first inning, and Victor Martinez, who singled in the sixth. For Pedroia it extended his hitting streak to 14 games.
For Martinez, it was yet another achievement since coming to this team. He now has a 21-game hitting streak, and according to Elias Sports Bureau, that's the longest such streak for a switch-hitter in Red Sox history. The last Boston switch-hitter to have such a streak was Reggie Smith in 1969, who hit in 19 straight games. Overall, the longest hitting streak in team history was Dom DiMaggio's 34-gamer in 1949.
Bay's homer streak ends
Left fielder Jason Bay went homer-less for the first time in five games, and he didn't drive in a run on Tuesday, snapping a seven-game RBI streak. If he had homered or recorded an RBI, he would have been in special company.
Here's what the Stats & Information department at ESPN passed along:
Most Consecutive Games With a HR
Red Sox LF, Since 1954
It was the second seven-game streak this season in which Bay has driven in at least one run. According to Elias, Bay is the first Red Sox player to have two seven-game RBI streaks in one season since Ted Williams in 1950.
Expect the Red Sox to be interested in Chapman
With the news this week that Cuban left-hander Aroldis Chapman has established residency in the small European country of Andorra, the natural assumption was that many teams would wade into the bidding once the 21-year-old becomes a free agent. While clubs await official word from Major League Baseball about Chapman's free-agent status, expect the Red Sox to have serious interest.
Boston almost certainly will want to see Chapman throw in person. His agent, Edwin Leonel Mejia, told ESPN The Magazine that he will likely have private workouts for teams, not a showcase. But until Chapman is officially declared a free agent, the teams, including the Red Sox, won't know exactly what the rules of engagement will be until Chapman's agent sets them.
If and when teams are officially allowed to see Chapman in person, they will have to travel to Europe; the Red Sox would likely send at least international scouting director Craig Shipley and people within his department, and possibly other members of the front office at some point. Back in 2002, general manager Theo Epstein flew to Nicaragua to try to woo Jose Contreras, whom the Yankees signed to a four-year, $32 million deal. That later prompted team president Larry Lucchino's famous "evil empire" quote.
For now, teams will gather as much information they can and will look for any possible advantage once it comes time to negotiate. While Chapman's favorite player is Contreras -- who is now with the Rockies -- the Red Sox have Cuban-born Luis Tiant, the former star pitcher who could be called upon to make a phone call or perhaps even visit.
Quick hits
Kansas City Chiefs general manager Scott Pioli stopped by Boston's clubhouse before Tuesday night's game. The relationship between Pioli and Francona dates back to Francona's first year in Boston, when both men were honored at an award banquet. Pioli, then with the New England Patriots, has kept in touch with Francona over the years. On Wednesday morning, Francona and perhaps some of the staff likely will check out a Chiefs practice at Arrowhead Stadium, right next to Kauffman Stadium. ... The likely rotation this weekend at Yankee Stadium will be Jon Lester, Daisuke Matsuzaka and Byrd. For the Yankees, it will be Joba Chamberlain, CC Sabathia and Andy Pettitte. ... Before the game, Red Sox reliever Billy Wagner was sitting in the dugout when he spotted Royals catcher Miguel Olivo coming toward him with a sheepish smile. Wagner gave Olivo a hard time about his success against him; Olivo is 8-for-12 (.667) vs. Wagner lifetime with two homers and a 1.833 OPS. "I look up [at the scoreboard], you're a .240 hitter and I can't ever get you out," Wagner told Olivo as he approached.