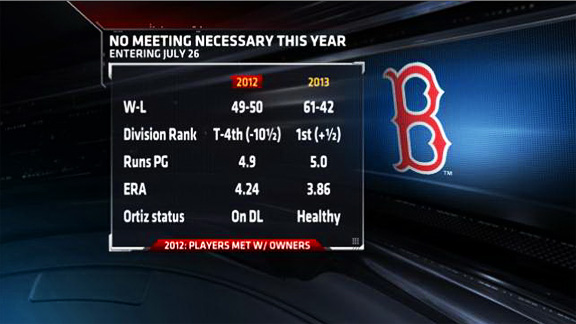 It was on this date last year that Boston Red Sox players met with ownership to discuss their unhappiness with the current state of the team.
The next day, they would get blown out by the New York Yankees, 10-3, and though they'd enjoy a four-game winning streak immediately thereafter, their post-meeting mark would be a miserable 20-43.
Red Sox Notables (2012 vs 2013)
Entering July 26
A year later, the state of the Red Sox is considerably better, as both the graphic above and the graphic on the right shows.
Entering today the Red Sox are 61-42, 12 games better in the win column and eight games better in the loss column than they were at this time last season.
What amounts to a 10-game overall improvement is the biggest improvement of any major-league team over the last year, just ahead of the St. Louis Cardinals and Colorado Rockies.
The Red Sox are on pace for 96 wins this season, a 27-game improvement from 2012. That would be the third-biggest jump in team history, just behind the 27 1/2 game bump from 1911 to the championship season of 1912, and the 33-game bump from 1945 to 1946.