WILMINGTON, Mass. -- One player who has to be glad to be back south of the border after the Bruins' road trip is Johnny Boychuk.
The rookie, whose ice time increased by a large margin during the three away games because of injuries to other players on the Bruins' back end, came under scrutiny for his tooth-rattling hit on Toronto's Matt Stajan on Saturday. Unfortunately for Boychuk, the Bruins' next stop was Ottawa on Monday, another city where you can't hide from the coverage of hockey.
[+] Enlarge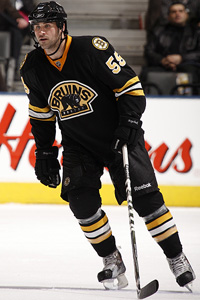 Abelimages/Getty Images
Johnny Boychuk made the most of his increased ice time during the Bruins' recent road trip.
After practice at Ristuccia Arena on Tuesday with a small contingent of reporters around him (relative to the throngs that flock in Canadian cities), Boychuk was asked about the media stir he caused with the hit.
"I didn't notice," he said glibly.
Since Saturday, a debate has ensued over whether the hit was clean and whether it was a blow to the head, and it has been used in the context of a larger NHL debate about player safety. Stajan was able to return to the game against the Bruins and then played a regular shift for Toronto on Monday night. So there were no apparent aftereffects on the player on the receiving end. As for the player who dished out the hit, Boychuk said there weren't any psychological repercussions.
"It's just another game, and you've got to go out there and do the same thing," he said about Monday night's affair in Ottawa, during which he was credited with just one hit but didn't look as though he was playing any less aggressively. "If you've got a chance to make a hit, you're going to take it. But you're not looking for it, either."
A fine or suspension averted, Boychuk is able to hold his head high after a successful road trip. With some combination of Mark Stuart, Dennis Wideman and Derek Morris out during each of the three games, Boychuk logged more than 20 minutes each night. He scored a goal and was a plus-3 in Chicago, then posted an even rating in Toronto and Ottawa.
"Actually, I feel pretty good," Boychuk said. "You just got to get used to playing a lot. It's nice to get to play a lot; it shows confidence in my play, I guess."
Boychuk and Andrew Ference provided the Bruins with a reliable No. 2 D pair despite having not skated together before.
"[We're] just keeping everything simple trying to move the puck up quick and trying to get our shots through when we have a chance and putting bodies on your ice," Boychuk said.
Brown-out
The Bruins practiced with their dark brown gloves, helmets and overpants in preparation for the Winter Classic. About two-thirds of their players have received the right size gloves to start breaking them in for Jan. 1.
Wideman's not weary
After missing two games with an undisclosed injury, defenseman Wideman returned to action and logged a team-high 28:55 of ice time.
"I was rested," he joked. "While everybody else was working hard, I was resting."
Wideman said he wasn't any worse for the wear Tuesday morning in the aftermath of his heavy workload. Coach Claude Julien gave Wideman's play a seal of approval, despite what he called some of his "famous giveaways."
Here comes Kovy
Bruins fans might want to show a little love for Atlanta forward Ilya Kovalchuk when he takes the ice Wednesday night against the Bruins. The potential unrestricted free agent has had his agent, Jay Grossman, in talks with the Thrashers about a new contract, but then came this statement from Atlanta general manager Don Waddell on Tuesday: "We seem to have hit a little snag right now, and we're going to take a little time to rethink our positions, and we'll get back after the holidays."
Obviously if that snag becomes something bigger, Kovalchuk could be a huge trade-deadline target for offensively challenged teams like the Bruins. The package required to acquire him and the contract necessary to keep him would be extremely steep, but the Bruins could be in the mix because of their stockpile of high draft picks the next two years as well as some prospects and roster players in whom the Thrashers might have interest.
Wozniewski sent down
After practice the Bruins assigned defenseman Andy Wozniewski back to Providence (AHL). Wozniewski played in just one game with Boston after he was recalled last week on an emergency basis.