He might decide to stand pat and maintain patience for at least one more game, but Bruins head coach Claude Julien should really go back to the drawing board and try to find yet another way to jump-start Marco Sturm and Michael Ryder.
Julien's most recent attempt to squeeze more offense out of his two most-proven scoring wingers has been to put them on premier playmaker Marc Savard's wings. The result through two games -- both losses -- has been zero points and not many signs of life.
[+] Enlarge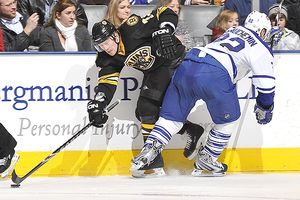 Graig Abel/NHLI/Getty Images
Michael Ryder has just two goals in his last 14 games, and only eight all season.
Following a lackluster performance by that trio in the 5-4 shootout loss in Chicago Friday, the Bruins' would-be No. 1 line managed just three shots on net as Boston was shut out by Toronto Saturday.
On a night that the Bruins basically played with just four defensemen (Zdeno Chara, Andrew Ference, Matt Hunwick and Johnny Boychuk logged north of 20 minutes, including Ference's team-high 28:22) and still held the Leafs to a reasonable 21 shots and two goals, not providing the shorthanded blue-line corps and goaltender Tuukka Rask with some offense support was unacceptable.
All the blame can't be heaped on the top line. But at least the David Krejci and Patrice Bergeron lines -- which provided almost all the offense 24 hours earlier against the Blackhawks -- were active and endured some near-misses against the Leafs. Krejci's right-winger Byron Bitz even had his nightly golden opportunity, which seems to always end with a save rather than a goal. At least Bitz and his linemates showed a pulse.
When the Bruins' fourth line's scoring chances greatly outnumber that of their top triumvirate, there's a problem. Ryder now has two goals in his last 14 games, while Sturm is looking at a one-goal-in-seven-game stretch. For the season, Ryder has just eight goals; Sturm has scored nine. Julien has tried everything short of a drop to the fourth line or a seat in the press box to get these guys going. Sturm typically works best with Bergeron, and Ryder with Krejci, but those combinations haven't worked this season. So frustrated with Bitz and Blake Wheeler's inability to turn Savard's dishing into goals, Julien made the move to Ryder and Sturm for the start of this road trip. But that pair of wingers obviously left their offense back in Boston (or maybe somewhere they visited this summer judging from their play this season).
If Ryder, Sturm and Savard are hoping for outside help to arrive, they're out of luck. The NHL roster freeze went into effect Saturday (and lasts until Dec. 27) -- meaning that Boston can bring in reinforcements only from its Providence farm club. Snipers are even scarcer down there, so the Bruins will have to solve their offensive problems with what's on their roster. That means Sturm and Ryder must find some semblance of a scoring touch soon.
Milan Lucic's imminent return might provide the Bruins a boost and could also force Julien into a sticky situation. After all, if things are still status quo when Lucic is cleared to play, it'll be difficult to justify scratching Vladimir Sobotka or Daniel Paille when they're making things happen with the puck while Sturm and Ryder are in an early-winter slumber.