BOSTON -- Throughout the latter years of his NHL career, Bruins winger Mark Recchi has scored the bulk of his goals in ugly fashion around the net.
But at least his 900th career assist came on a beautiful breakaway goal, with Daniel Paille doing the honors Tuesday night in the Bruins' 3-0 win over the Pittsburgh Penguins at TD Garden.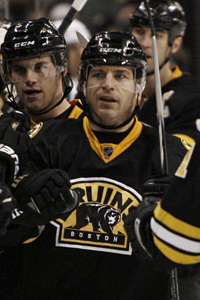 AP Photo/Winslow Townson
Mark Recchi is congratulated on the Bruins bench after recording his 900th career assist.
"It took forever to get it," said Recchi, who hadn't recorded an assist since Oct. 16 at Dallas. "Like I've said, all these personal things, at the end of my career, they'll be real cool. My kids, they already texted me. And they're probably more happy for me than anything. And my dad and my parents. So it's kind of neat.
"I think it's a lot of assists. It's been playing with a lot of great players and being in great situations. I've been very fortunate for 21 years and fortunate again to play with this one here."
Tuesday night's assist wasn't just huge for Recchi's résumé but also for the Bruins, who were in pursuit of their first consecutive wins this season with the defending Stanley Cup champions standing in their way. Boston was protecting a 1-0 lead early in the third when the Penguins were putting on some heat in the Bruins zone.
Derek Morris blocked a Matt Cooke shot, then Patrice Bergeron head-manned the puck to Recchi. One pass in the neutral zone later, Paille had a breakaway, and he beat Marc-Andre Fleury with a snap shot to the stick side.
Recchi said he didn't know his regular linemate Marco Sturm had gone off for a change until after the pass had been made. But Paille, a former Buffalo winger, cashed in for his first goal in black and gold.
Recchi, 41, is a mere 1,063 assists behind Wayne Gretzky for the all-time lead. More realistically, he could move up a couple of slots from his perch at No. 18 on the career list over the rest of this season, which could be his last in the NHL. Next in line for Recchi is Bryan Trottier with 901 career assists, then Stan Mikita at 926 and Larry Murphy at 929.
You might think assists, even the milestone ones, would be easy to forget. But Recchi says most of them have made a mark on his memory.
"I remember most of them, I do. They're all pretty neat," he said. "When you start to get up there, it takes a long time to get them now. To go to 100 now, it used to be one season at one point for me and sometimes one and a little bit. But they're nice. I'll cherish them for a long time.
"There's a lot of amazing players that I'm up there with that I couldn't even imagine when I started playing in this league that I'd ever be even in the same breath as these guys. I still don't put myself in that category, but I'm up there."
The puck Paille scored on found a home in Recchi's dressing room stall, with yellow tape around it and the words "900th assist" written in black. It was resting next to a puck from his 1,500th game in Ottawa on Oct. 24, another nice win for the Bruins, who rallied for two goals in the final two minutes, then prevailed in the shootout.
So, if Recchi needs any extra incentive to add to his career totals, it seems his statistical milestones bring good fortune to his team, as well.