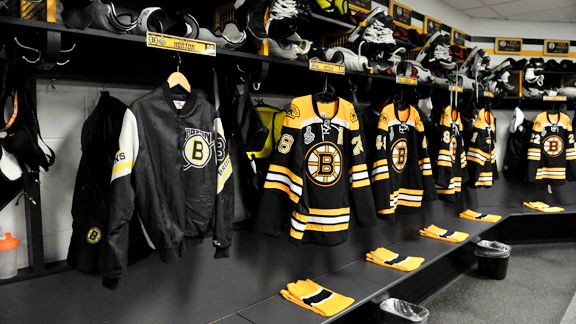 Brian Babineau/NBAE/Getty Images
A look at the MVP jacket hanging in Nathan Horton's stall before Game 4.BOSTON -- Injured Bruins forward Nathan Horton made a surprise postgame appearance in the Bruins locker room to personally hand off the team's MVP jacket that had been hanging in his stall (bestowing it upon Rich Peverley, the man who filled his spot on Boston's top line and scored two goals in the Bruins' 4-0 Game 4 triumph). Here's a collection of reaction to Horton's appearance:
* Bruins goaltender Tim Thomas: "Well, first of all, I was very, very happy to see Nathan up and around in the locker room. I wasn't exactly sure of his status. You know, I'd heard that he was okay, but then I heard it was a severe concussion... When I personally got to see him in the locker room, you know, I was incredibly happy and it gave me a big boost. He was there to pass the jacket on. We didn't pass the jacket on the last game with him gone. I think the team would have been happy leaving it with Horty for the rest of this series, but he wanted to give it away and keep the tradition going that we'd started. So actually he gave it to Peverley, the guy who replaced him on the line. He was obviously great for us tonight. He got the first goal and the last goal. That first goal and the fourth goal are very important goals. We wouldn't have won without the way he played."
* Bruins forward Michael Ryder: "It was huge. We didn't expect to see him. We didn't expect to see him and it is good to see that he is doing better. He is a big part of this team. We are going to miss him, but, like I said, when guys go down, other guys step it up. It is good to see Horty around and that he is up and moving and doing well."
* Bruins forward Daniel Paille: "It was exciting to see him come here and show support. You know he's a loving guy, he's a caring guy for everyone on this team. He's always in a good mood and to see him come out here and the job on his face to get a win like that, to see a win like that. But for him, I'm sure he's excited."
* Bruins forward David Krejci: "Obviously, it's good to see him. It's good to see him smile. He's a great guy and friend, so it was good. I can't describe it. Like I said, he's a great guy and a good friend, so it's really, really, really good to see him. I was so glad he came."
* Bruins forward Rich Peverley: "You can't replace a guy like that. He's been one of our best players all playoffs and the whole team stepped up tonight... He came in the room and everyone's pretty emotional to just be able to see him. No one has seen him since everything happened, so he wanted to give [out the jacket] tonight.... He was really excited to be in here, I think just to see the guys and no, no one was expecting to see him tonight. I think everyone was super excited, he's an integral part of this team and, obviously one of the best players the whole playoffs."
* Bruins forward Shawn Thornton: "I didn't know he was here, I don't think a lot of guys did. He's such a good guy, such a positive influence in this room and the team. He makes everyone in here feel better about themselves, he really does. He's been such a good teammate all year, so to see him come in the room, I'm pretty sure everyone got a pretty good kick out of that. We're very happy to see him, see him walking around and doing OK."