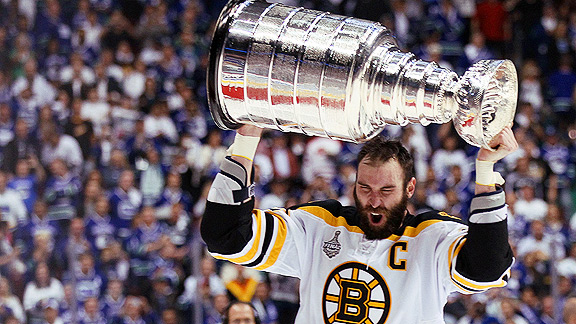 Elsa/Getty Images
Zdeno Chara hoists the Stanley Cup trophy after Boston's Game 7 triumph over the Canucks.VANCOUVER, British Columbia -- The Boston Bruins have won the Stanley Cup for the first time since 1972, beating the Vancouver Canucks 4-0 in Game 7 of the finals on Wednesday night.
Tim Thomas capped a spectacular playoff run with 37 saves in the Canucks' hostile home arena, and Patrice Bergeron scored two goals as the Bruins earned the only road victory in the two-week series.
Brad Marchand also scored two goals as the Bruins crushed an estimated 100,000 Canadian fans who gathered in downtown Vancouver to celebrate the Canucks' shot at their first championship.
Boston had lost five straight Stanley Cup finals since winning its last championship. The Bruins hadn't even reached the finals since 1990.
Boston had never ended a season with a Game 7 in the finals, but these Bruins became the first team in NHL history to win a Game 7 three times in the same postseason.
Thomas was awarded the Conn Smythe Trophy as the playoff MVP.
We'll obviously have much, much more as the night goes on ...