Bruins forward Patrice Bergeron scored the only goal Boston would need with his first-period tally and admitted it was a crucial goal in Boston's 4-0 triumph over the Vancouver Canucks in Game 7 of the Stanley Cup finals.
"I'm not sure [the pass from Brad Marchand was intended for Bergeron], but I was ready for it," he said. "And [Mark] Recchi tried to shoot, and obviously it was perfect because I was ready as well behind him. We sort of surprised them. That first goal was huge."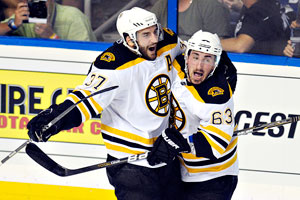 AP Photo/Phelan M. Ebenhack
Patrice Bergeron (37) and Brad Marchand (63) paired up on Boston's first goal of Game 7.Bergeron happened to be in front of the net at 14:37 of the first period when Marchand, after looping around to create space near the faceoff circle, fed a pass towards the slot. Recchi couldn't get a stick on it, but Bergeron sneaked it inside the post. Asked about cutting it pretty close, Bergeron joked, "Well, post and in. You can't ask for anything better, can you?"
Bruins netminder Tim Thomas, sitting next to him at the interview podium, quipped, "He does it all the time in practice."
Bergeron added a more highlight-worthy tally with a shorthanded goal at 17:35 of the second period to put the Bruins out front, 3-0. Thomas turned aside all 37 shots he faced to make the first goal stand up.
As big of a relief as striking first was for Boston, Thomas joked that he wanted another one to take even more pressure off.
"I was hoping someone else would score so I wouldn't have to shut them out," said Thomas. "I was happy going into the game, talked about not getting too high. If we do score, you can't act like you've won the Stanley Cup because you will get an emotional high and it will end up showing on the ice.
"I was just trying to stay level. It was just one goal. It was a huge goal, the game-winning goal, but at that time, there was still a lot of game and a lot of work left to do."