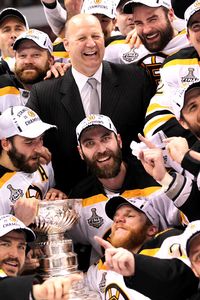 Bruce Bennett/Getty Images
Bruins coach Claude Julien in the center of Boston's Stanley Cup celebration.Bruins coach Claude Julien has endured plenty of criticism, particularly for an inability to get Boston deep into the playoffs during his first three seasons in Boston, but said the key for him in keeping this team steered towards accomplishing its Stanley Cup goal was simply avoiding the noise outside his locker room.
"You're probably the 20th guy to ask me that question tonight and I'm going tell you exactly what I tell everybody else: As a coach you're going to be subject to criticism, but the most important thing is what's going on inside that dressing room," said Julien. "There wasn't a guy that didn't believe in what we were doing. So it's easy to stay the course, and you got to stay the course. Today you're rewarded for it. Had I worried about that other stuff, I probably wouldn't be standing here today."
As the Bruins join their Boston sports brethren as recent champions -- each of the four major sports boasts at least one title in the past seven years -- Julien takes great pride in putting hockey back on the map in this city.
"As a coach, you stand here and you're happy about what you gave people on the outside," said Julien. "There is good proof here, my family, my wife and daughter and my parents that came in from Ottawa, my in-laws, and those people growing up had an impact on your life. You want to do it for those people. You want to do it for the players that have sacrificed, and their wives and girlfriends and for the fans in Boston.
"You're paid to do a job and the job is to succeed. And when you succeed, you've made everybody around you, your fans and everybody else, happy. That's what I'm doing here is enjoying the moment. I want to see our players have fun with this and they deserve to enjoy that moment. I'm very willing to stand back and just watch them, and that will make my day."