BOSTON -- So much for those 60-minute efforts the Bruins players are always talking about. Boston produced one on Wednesday against Atlanta in a 4-0 win, but the 2010 Winter Classic will not qualify for 60-minute effort status.
Philadelphia dominated the Bruins with a 12-6 shot advantage in the second period and the first goal of the game on a shot from the point by Danny Syvret.
[+] Enlarge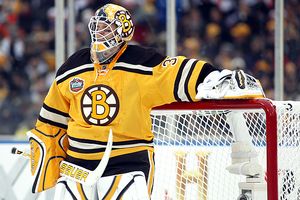 Greg M. Cooper/US Presswire
Tim Thomas gave up a second period goal.
For the most part, the Bruins have looked too tentative when it comes to firing shots on net and getting involved at the offensive end. Considering their conservative approach, the Bruins shouldn't have allowed two breakaways that Tim Thomas had to snuff out. But they did.
While Thomas was great with Flyers skaters bearing down on him, his inexplicable crosscheck on winger Scott Hartnell just a split second before Syvret's shot came on net has a chance to go down in infamy in Bruins history. Thomas has to hope there are some fireworks in the third or all anyone will remember about the 2010 Winter Classic is his poor decision to let the Flyers' rugged play get to him. Hartnell had bumped Thomas seconds before the goal.
As for the ice, except for the faceoff dot on the right-wing side in the left-field zone, all seems well. The ice crew has actually taken to using a fire extinguisher to fill in what must be a pretty deep rut that has formed since the first period.
The Bruins have to forget about all the fun and all the history. Without a better final 20 minutes, the Bruins might make this game one to forget.