Celtics coach Doc Rivers emerged for his chat with the media before Wednesday's game against the Denver Nuggets, took his place in the middle of the reporters scrum outside the Boston locker room, then scanned the faces in front of him with a growing smile as he waited for the first question.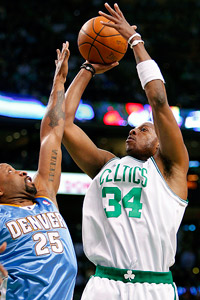 Greg M. Cooper/US Presswire
One reason to be optimistic about the Celtics: Paul Pierce is playing like Paul Pierce."Am I supposed to open up again?" he joked when no question immediately came.
His team as healthy as it has been this season and starting to play its most inspired ball since December, us reporters simply didn't have much to quiz Rivers on.
"You guys are awful quiet," Rivers later added. "Is it spring break for you guys? This is great, let's stay on this break for a while."
When things are going well, there're simply not as many questions. Which sort of embodies this week's Celtics Mailbag. While an influx of questions came after the Utah loss on Monday, it's been a mighty quiet week with Boston winning five of its last six overall. And there's even a bit of optimism, which has been missing since December.
But not everyone was happy...
Click HERE to read this week's Celtics Mailbag.