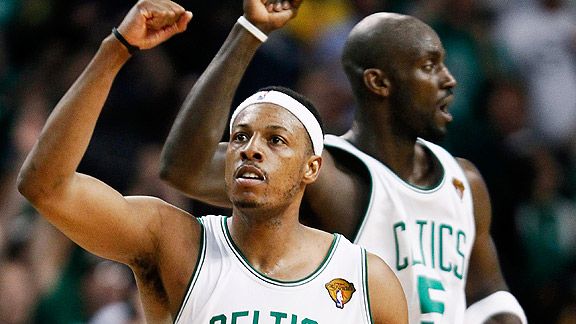 AP Photo/Winslow Townson
Paul Pierce and Kevin Garnett are not afraid to tell teammates how they feel.BOSTON -- A collection of postgame news and notes after the Boston Celtics defeated the Los Angeles Lakers in Game 5 of the NBA Finals on Sunday night at the TD Garden:
The rundown (a quick look at postgame headlines)
* Pierce, Rondo clear the air over miscommunication
* Rondo, Allen pick up technicals as tempers flare
* 'Wired' Jackson implores Lakers to battle back
PIERCE, RONDO CLEAR THE AIR OVER MISCOMMUNICATION
Celtics captain Paul Pierce didn't seem particularly pleased with the way the final possession of the first half played out, and was visibly upset after Boston failed to generate a shot and settled for a six-point halftime lead.
After the game, all sides tried to defuse the situation, while Kevin Garnett suggested that those sort of heated exchanges only make Boston a better team in the end.
"Oh, it was nothing," Pierce said. "I told Rajon at halftime, I had a couple buckets going and I wanted the ball, and he wanted to do something different, and I was a little upset at that. Hey, he's our point guard, and I trust him. He's made so many great plays for us throughout the year and throughout the playoffs. It wasn't nothing. I went and told him at halftime that it was nothing.
"We've got spats with our team all the time. We always have spats. But the good thing about it, we always clean it right up. I was a little mad, but I went in the locker room and told him don't sweat it, we're in this to get a win. It isn't about who gets the last shot."
Pierce scored 15 first-half points on 7-of-10 shooting and had made all three shots he attempted in the second quarter. He appeared to want the final shot -- like any shooter -- and walked off in disgust when the ball never came his way.
"I knew Paul had it going, and Luke Walton was really hard trying to deny him the ball, and I tried to look him off knowing that I was going to Paul," Rondo said. "But it was just communication, and I just wanted to make a play."
Added coach Doc Rivers: "Well, [Pierce] thought he was getting the ball, didn't get it, so he was walking away. Then Rondo was going to give him the ball and held it, so it was just a miscommunication. We want the ball in Paul's hands at the end of the quarters, if we can do it, because we haven't been very good ending quarters as of late. We wanted a pick‑and‑roll with Paul and a big, and it just never happened."
Asked whether better ball movement in the second half was a result of that internal dust-up and the ensuing conversation, Rondo suggested it was merely coincidental.
"No, it just kind of happened," he said. "Nobody said anything except for me and Paul at halftime, but that wasn't a point of emphasis at halftime."
Garnett took a bigger picture view and noted the comfort level that exists between players and allows open dialogue.
"A lot of times, it's not what you say, it's how you say it," Garnett said. "We've been around each other for a while, and we've had numerous and different type of conversations. We know how to deal with each other, and obviously when things get heated, I think we do a good job of communicating the right way, versus just saying anything. But it's been situations where we've had to learn from that, what we've learned over these years of dealing with one another, and it's definitely helped us in games.
"We're a very passionate team, man. Our practices are the same, if not even more passionate. Our practices are very, very emotional. We carry some of that over to games. You've got to know how to communicate with a teammate and talk to him, definitely when things are either going well or when they're not. You've got to have a level of communication and you've got to have a level of -- you can't be sensitive. You've got to hear what a guy is saying to you and vice versa. And I think we communicate really well on this team, A through Z."
RONDO, ALLEN PICK UP TECHNICALS AS TEMPERS FLARE
Rondo didn't bicker with just his teammates Sunday; he got into it with opponents as well.
With 4:41 to play in the first half, Ron Artest produced a hard foul on Kevin Garnett, knocking the Boston forward to the ground in the process. Rondo entered the fray and pushed Artest, who -- in the spirit of the World Cup, maybe -- lunged backward as if shoved by somebody twice the size of Rondo, resulting in a technical foul on Boston's point guard.
"I'm not that strong," Rondo said to laughter when asked about Artest's reaction to the shove. "He did [flop] a little bit. He's probably the strongest guy on the court in this series. I've been lifting a little bit, but other than that, I didn't push him that hard."
Ray Allen and Derek Fisher also got tagged with double technicals for a flare-up midway through the third quarter. Rivers stressed that he prefers to keep the focus on being smart, particularly as two of his players -- Kendrick Perkins and Rasheed Wallace -- tread dangerously close to the league's postseason limit of seven technicals before a one-game suspension.
"I don't like that stuff," Rivers said. "Let's just play. It was physical. There was a lot of pushing going on, but we kept getting the technicals. And I understand you want to stick up for your teammates, and that is good, but strength sometimes is walking away, and I tell our guys that all the time. If you want to show toughness, toughness is walking away from all the other stuff."
'WIRED' JACKSON IMPLORES LAKERS TO BATTLE BACK
ABC's "Wired" segment, in which audio from a team's huddle is replayed during the television broadcast, caught Lakers coach Phil Jackson imploring his team to not give up Sunday because Boston has been so good at giving away second-half leads this season. That's something Pierce couldn't dispute after being informed of the remarks.
"You know, he's right," Pierce said to laughter. "That's been the truth for us throughout the regular season. I haven't really seen too much of that in the playoffs, but coaches say things to try to motivate their team. He's supposed to give them confidence. He's supposed to say something like that. I probably would say the same thing if I was a coach in that situation. It doesn't bother me at all."
Sort of like when cameras caught Pierce saying this series wouldn't go back to L.A. as Boston closed out a Game 2 victory at the Staples Center.
"I'm supposed to think that my team is going to come back here and lose a game at home?" Pierce said. "I'm just thinking, 'Hey, we've got to go home, if we get all three of these wins, we win the series.' I'm not about to say we're going to get two out of three. That's what we try to do. I don't regret that. I wasn't being cocky about it; I was just confident in my team. I didn't say anything negative about the Lakers. I was just referring to what I wanted my team to do, that's all."
Back on the subject of Jackson's comments, Pierce noted he'd like to prevent that trend from re-emerging.
"We don't want to be that team like we were in the regular season," Pierce said. "So hopefully we can go out [to Los Angeles] and try to win one of these two games and not give up a fourth-quarter lead."
Asked his thoughts, Kevin Garnett was more direct: "No reaction at all. I'm looking forward to Game 6. I couldn't care less what Phil Jackson is talking about."