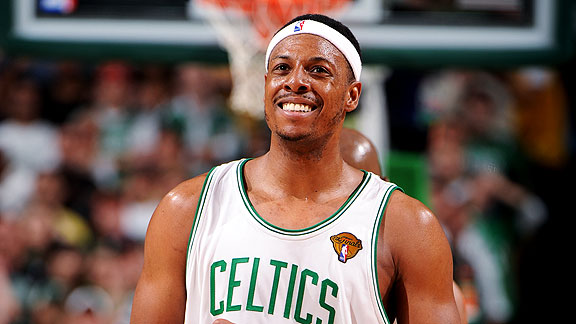 Andrew D. Bernstein/NBAE /Getty Images
It appears Paul Pierce will be back in green next season.The Boston Celtics and captain Paul Pierce are continuing talks on a new contract and are closing in on an agreement, sources close to the situation have told ESPN.com.
Multiple media outlets are reporting that the sides have reached agreement on a four-year extension, but the reports are premature, sources told ESPN.com. Pierce is engaged in talks with no other team, but a deal has not been completed, the sources said Friday.
The sides are discussing a four-year deal worth between $60 million and $62 million, but whether the fourth year is guaranteed or not is a big point of contention, a source told ESPN The Magazine's Ric Bucher. Pierce, who opted out of the final year of his contract and sacrificed $21.5 million, is taking a significant reduction to help the Celtics re-sign unrestricted free agent Ray Allen and bring in another quality player.
If the Celtics are able to bring back Pierce, they would have locked up two key leaders on the team in three days after coach Doc Rivers agreed to return to the Boston bench Wednesday. Boston would then turn its attention to unrestricted free agent Ray Allen -- and the rest of its seven remaining unrestricted free agents -- as it looks to keep the core of its team together after winning a title in 2008 and coming six minutes away from another last season.
The Boston Herald first reported Pierce's re-signing.
Pierce opted out of the final year of his contract and sacrificed $21.5 million, but is seeking the long-term security. The reported deal would pay him an average of $15.25 million per season. With a four-year deal, Pierce would also net a valuable no-trade clause that could further ensure he remains in Boston for the duration of his career. He will be on the backside of 36 when this new contract expires.