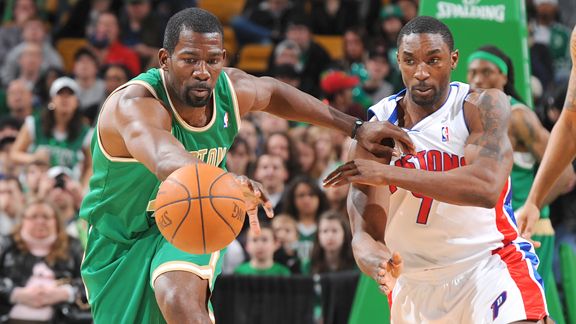 Brian Babineau/NBAE/Getty Images
Michael Finley didn't provide much after a quick start in Boston.Over the next few weeks, we'll take a player-by-player look at the 2009-10 roster and how each player's season unfolded, assigning a grade for their overall performance. This is the sixth in the series of report cards:
Player: Michael Finley
2009-10 averages: 5.2 points, 1.5 rebounds, 1.1 assists (Boston only)
2009-10 salary: $194,000 (Boston only); $2.5 million (total)
Season in a paragraph: Relegated to the end of the bench in San Antonio, Finley asked and received his release in early March, allowing him to sign with Boston right before the deadline to add playoff-eligible bodies. A change of scenery proved perfect for the 37-year-old Finley, who connected on 19-of-41 3-pointers (46.3 percent) over the final two months of the regular season. This after going 13-of-41 (31.7 percent) from beyond the arc with the Spurs the previous five-plus months.
Season highlight: March 15, 2010 -- In his fifth game in Boston, Finley connected on 6-of-7 shots, including a trio of trifectas, and registered a season-high 15 points in a 119-93 triumph over the Detroit Pistons. He reached double figures in scoring just once over the final 15 games of the regular season.
Season lowlight: May 26, 2010 -- Scoreless over his previous 11 playoff appearances, Finley was fading quickly and, after being abused defensively in Boston's Game 5 loss in Orlando, he was relegated to the very end of the bench. He made only two more appearances for the postseason, logging a mere five minutes in two Finals games.
Final grade: C
Teacher's notes: Finley was such a low-risk addition, it's hard to grade him much harsher. Sure, he disappeared in the postseason, which is when the Celtics were hoping he'd contribute, especially given his playoff experience. But no championship-caliber team should be leaning on a 37-year-old bench player when the games matter most. The Celtics needed a 3-point presence and hoped he might provide the sort of instant offense Eddie House accounted for during the 2008 title run. It never happened.
What's next?: Reports indicate Finley wants to play next season. It's safe to say it won't be in Boston. It was worth taking a flier on him last season, but the Celtics will likely seek a younger player who can consistently score off the pine. Finley will probably latch on with another contender, even if it's only as a late-season addition.
Honor roll: Click HERE to read past report cards.
Don't agree with teacher? Just want to sound off on Finley's 2009-10 season? Click HERE to leave a comment.