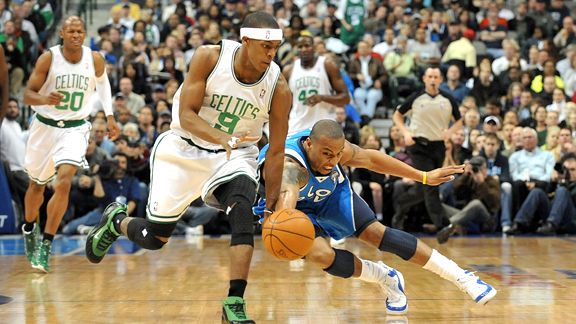 Patrick Green/Icon SMI
Despite a crowded backcourt at Team USA camp, late add Rajon Rondo could prove to be a steal.The Celtics preach risk management. But Rajon Rondo is rolling the dice with Team USA at training camp in Las Vegas writes ESPN.com's Chris Sheridan:
LAS VEGAS -- Now that Rajon Rondo has finally decided to try to make the 12-man Team USA roster, something he never heard in Boston is being made clear to him: It is OK to gamble.

And we're not talking about slots, craps or roulette.

We're talking about taking a chance, on the basketball court, at forcing a turnover when he applies full-court, man-to-man pressure against the ball handler he is defending.

The Celtics almost never press. And coach Doc Rivers has continually preached to Rondo that he needed to subjugate his desire to force turnovers through risky gambles that, if they failed, would result in his older teammates having to scramble to recover.

"I think there's more gambling in the international game. You gamble and rotate, try to force the tempo with the opponents, speed it up and try to make them turn the ball over," Rondo said Wednesday. "Everyone can play defense, but I try to bring a different type of level of intensity when I pick up the ball at the guard spot. They want me to.

"I don't do it in the NBA because there's 82 games and I'm playing 39-42 minutes, but I won't play so many minutes here, so when I'm tired I can come out."

First, of course, Rondo needs to make the final 12-man roster, which is not a given on a team that is loaded (overloaded, really) with talented point guards.
Click HERE to read the full story.