Rajon Rondo's triple-double performance against the Cleveland Cavaliers in Game 4 of the Eastern Conference semifinals is up for Game of the Year in voting on NBA.com.
It's one of three games involving the Celtics among the 10 on the ballot. Alas, the other two are remembered far less fondly by Boston fans. The first is the Lakers' triumph over the Celtics in the first regular-season meeting on Jan. 31, in which Kobe Bryant made a pull-up jumper over Ray Allen with 7.3 seconds remaining (and Ron Artest drew a flailing charge on Paul Pierce soon after).
The other? Los Angeles' Game 7 triumph in the NBA Finals. Worse yet for Celtics fans, that was winning the vote in a landslide in early returns.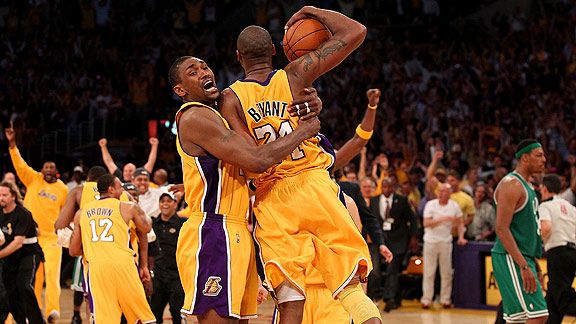 Christian Petersen/Getty Images
Not many Celtics' fans will cast a vote for this as Game of the Year.