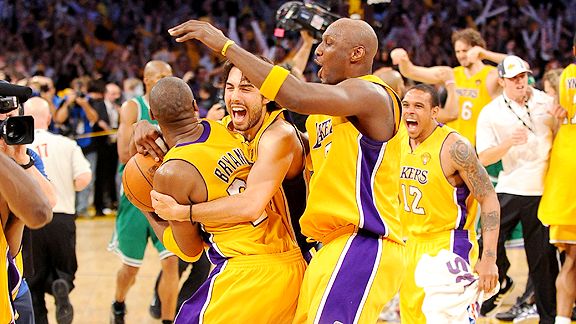 Noah Graham/NBAE/Getty Images
The top game of the 2009-10 season? Boston fans might beg to differ.Earlier this week we told you about NBA.com's online vote for the Game of the Year.
The Celtics were involved in three of the 10 games nominated, including Rajon Rondo's triple-double performance in Game 4 of the Eastern Conference semifinals against the Cleveland Cavaliers. The other two games were losses to the Los Angeles Lakers and fans voted the most painful of any defeat during the 2009-10 season as the league's top battle.
Game 7 of the NBA Finals, an 83-79 triumph for the Lakers, took the top spot in the poll. Los Angeles' regular-season 90-89 triumph at the TD Garden on Jan. 31, landed at No. 4, while Rondo's exploits against the Cavaliers checked in at No. 5.
Hop HERE to check out the complete Top 10. NBA TV will run hourlong specials on each game starting Tuesday, Aug. 3. Check that same page for broadcast dates and times for those Celtics contests (if you care to relive two of the more heartbreaking ones of the season).