Dime Magazine caught up with Celtics center Kendrick Perkins for a wide-ranging chat on everything from his injured knee to the Miami Heat to music in the weight room. Here's some of our favorite parts of the Q&A: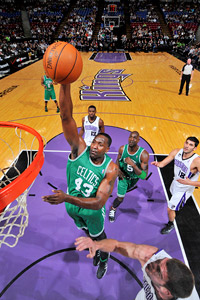 Rocky Widner/NBAE/Getty
Kendrick Perkins says rehab is going well and he's taking it slow.Dime: How's the knee?
Kendrick Perkins: Oh man, it's been going great. Surgery went extremely well, so I'm just rehabbing, trying to take it day by day, one day at a time and go from there. Right now I'm doing better than I expected. The doctors said I'm ahead of schedule, so I should be back my mid-February.
Dime: What's your game plan for rehabbing this summer?
KP: I'm spending most of the time here in Boston so I can take care of that situation. Sometimes I'll go back to Beaumont (Texas), but mostly I wanna be in Boston. I've never hurt anything in my knee like this since I've been playing. The rehab, it's a beast. It's hard. I'm almost walking on my own without a brace, so it's cool.
Dime: You might have the coldest mean-mug in the League. Do you listen to music or anything to get yourself psyched up like that?
KP: (Laughs) Man, but the time I wake up from my nap — actually, from the time we have shootaround — I'm just focused on the game. I have my game face on from the time I walk into the gym. I'm always jamming my music: I listen to UGK, that helps a lot.
Dime: How is the locker room atmosphere with the Celtics?
KP: Oh man, it's great. I always say we need our own reality show, but you've have to bleep out and edit too much stuff. It's funny. Every day I look forward to going to work with the guys on our team.
Dime: Tony Allen said there's always a fight over the music in the weight room.
KP: All the time. It's always a big misunderstanding. Tony would wanna play Gucci Mane, Nate always has a variety, and KG wants to play the same song 40 times in a row. But KG ends up ruling at the end, because he's got the most years in the League.
Click HERE to read the full Q&A.