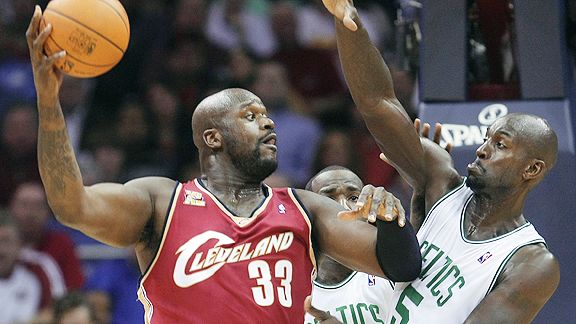 AP Photo/Tony Dejak
Two of Boston's many former All-Stars.The Wall Street Journal had an item Friday suggesting the combined number of All-Star appearances in a team's lineup isn't necessarily a guarantee of success. From the Journal:
After the Boston Celtics signed Shaquille O'Neal Wednesday, some friendly media reports played up the fact that the players on the team's current roster now have a whopping 54 All-Star selections between them—at least 38% more than any other NBA team in the past two decades.

But here's a question: Does that really matter?

Among the 10 teams since 1991 that had the highest number of All-Star selections heading into a season, only one went on to win the title, according to Stats Inc. Four of them got knocked out of the playoffs in the first round and two missed the playoffs entirely.

Over the same time span there have been 38 teams with at least 20 All-Star selections. Only four of them won championships. Six didn't even make it to the postseason.

There is one good explanation for this. Players who have a lot of All-Star selections tend to be old. On this coming Celtics team Mr. O'Neal (15 times), Kevin Garnett (13), Ray Allen (9) and Paul Pierce (8) have been in the league an average of 14.8 seasons. It also matters when those All-Star selections were granted. Mr. O'Neal and Celtics teammate Ray Allen didn't play in the 2010 game.
And here's the accompanying chart from Stats Inc. showing the individual NBA teams since 1990-91 whose players had the most All-Star selections going into the season and how they fared. O'Neal, of course, was on that 2005-06 Heat team that won a title:
2010-11 Celtics -- 54 All-Stars -- TBD
2003-04 Lakers -- 39 -- Lost in Finals39
2006-07 Heat -- 37 -- Lost in first round
2009-10 Celtics -- 34 -- Lost in Finals
1997-98 Rockets -- 33 -- Lost in first round
2005-06 Heat-- 32 -- NBA champions
2007-08 Suns -- 32 -- Lost in first round
2007-08 Heat -- 32 -- Missed playoffs
1996-97 Rockets -- 31 -- Lost in conference finals
1998-99 Rockets -- 30 -- Lost in first round