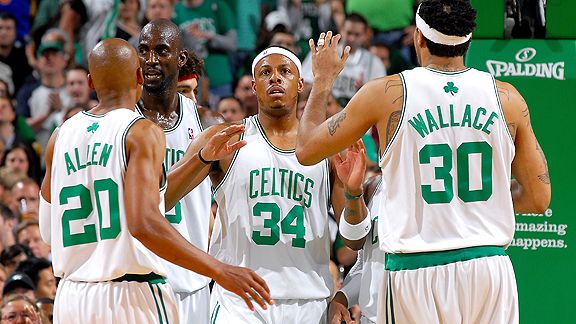 Brian Babineau/NBAE/Getty Images
Celtics can celebrate a successful offseason thus far.Boston Celtics president of basketball operations Danny Ainge wrapped up the signing of free-agent center Shaquille O'Neal this week while trying to squeeze in a vacation out west.
Now maybe it's time for a real retreat.
Boston's addition of another impact big man is the latest check mark on Ainge's offseason to-do list. The Celtics' roster is at a point where the team could sign second-round draft choice Luke Harangody -- an anticipated move that would bring Boston to the maximum of 15 players under contract for next season -- and call it an offseason, yet still be comfortable heading into training camp in October.
Yes, there remains the lingering uncertainty about what exactly the team plans to do with Rasheed Wallace. But having not only reassembled but reloaded (borrowing last year's catchphrase) a roster that came six minutes shy of winning a world title in June, Ainge and the Celtics can maintain their wait-and-see approach with Wallace's contract and simply monitor what develops moving forward, particularly as other teams finalize their rosters.
That's a luxury that's been afforded the team by not needing to utilize Wallace's contract in roster construction thus far (an offseason victory in and of itself). The Celtics expect Wallace to formally announce his retirement at some point, potentially walking away from the $13 million and two seasons remaining on his contract. But until he follows through on that plan, Boston has the freedom to trade him (offering other teams potential salary cap or luxury tax relief) in exchange for another piece to its 2010-11 puzzle.
Click HERE to read the full story.