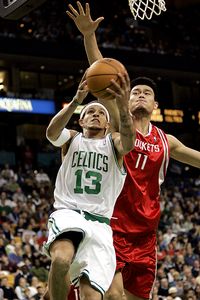 AP Photo/Chitose Suzuki
Delonte West is back in green after signing with the Celtics this offseason.With less than two weeks until Celtics training camp opens, we're breaking down Boston's roster from the bottom of the rotation to the top. Today's focus: Delonte West.
Fast Facts
Position: Guard
Vitals: 6-4, 180 lbs.
Experience: 6 years
Last season: 8.8 ppg, 3.3 apg, 2.8 rpg (Cleveland)
Salary: $1.07 million
Season Outlook
After three tumultuous seasons since leaving Boston, Delonte West returns home with baggage (a 10-game suspension to start the season due to off-the-court troubles), but there's hope that a fresh start and a strong support system will hep the Celtics' former first-round pick (24th overall, 2004) rekindle what made him both a fan favorite and valuable contributor here in his first three seasons in the NBA.
Not only is West walking into a good situation for him personally, reuniting with familiar faces like Paul Pierce, Rajon Rondo, Kendrick Perkins and even Shaquille O'Neal, but Boston's lack of depth at the wing position also provides an opportunity for West to have a major role on this team. While his suspension will allow others to get a jump, West is likely to emerge as the first guard off the bench to spell Ray Allen.
Expectations with the 2010-11 Celtics:: West is coming off a season in which he averaged 8.8 points, 3.3 assists, and 2.8 rebounds over 25 minutes per game in a reserve role for the Cavaliers. Few in Boston's front office would be disappointed if he could produce similar numbers here. West adds another shot of offense to a revamped second unit, his ability to both shoot the perimeter jumper and get to the rim key assets for a reserve group that often became stagnant last season. West did a good job increasing his number of attempts at the rim last season, but his 3-point shooting dipped dramatically, as he took nearly 2/3 less 3-point attempts from the 2008-09 season (3.6 per game) vs. 2009-10 (1.3 per game). Expect that number to climb again if increased attention to the likes of Shaq loosen up second-team defenses.
Best-case scenario: West's best NBA season came in 2005-06 when he started 71 games for Boston, averaging 11.8 points, 4.6 assists, and 4.1 rebounds per game. It's unfair to expect that sort of production given that West logged a career-high 34.1 minutes per game that season. No, the Celtics need West to embrace a supporting role and provide depth at both guard spots, particularly if Nate Robinson struggles at all backing up Rajon Rondo at the point. Even at the 2, West is going to create offense with his passing and takes care of the ball. He also limits his fouls and plays solid defense, meaning he does those little things that often go unnoticed. The Celtics will benefit most if West quietly fills up the stat sheet.
Worst-case scenario: The suspension that will sideline him until the middle of November will set him back, but it's unlikely to cost West a roster spot. It would seem there's too much of a support system for him to stumble into any sort of off-the-court troubles again. But certainly the Celtics must tread carefully and keep West pointed in the right direction to ensure this reunion has a happy ending.
Delivery of Flowers
The Killers frontman Brandon Flowers released his first solo disc entitled, "Flamingo" on Tuesday. We're utilizing song titles (and lyrics) to help break down the player in focus each day. Today's track: "Playing With Fire"
West's legal troubles might have left some unwilling to touch him, but there's a genuine desire in the Celtics organization to help him overcome his rocky past and thrive again on the court. West is eligible to return to regular-season action on Nov. 17 when Washington visits the TD Garden and expect an emotional moment when the crowd cheers West's first appearance on the floor.
Playing with fire / You know you're gonna hurt somebody tonight
West fits right into Boston's low-risk, high-reward mentality this offseason. OK, maybe he's more like moderate risk than others, but often overlooked is just how good of a player West can be. It's not a stretch when some suggest that, at times, West was the second-best player on the Cleveland roster next to LeBron James. Here's a player that started 64 games for a team that won 66 games in 2008-09. What's more, West has four postseason appearances and 45 playoff games of experience under his belt.
However dangerous the road, however distant / These things won't compromise the will of the design
Boston needed depth behind Allen and didn't have much to spend. Bringing in West on a one-year deal at the veteran's minimum, where the league pays a portion of what will already be a salary docked more than 12 percent by his suspension, there was seemingly no better value on the free-agent market. The Celtics understand the risks; they also know the rewards. West can help this team and the Celtics can help West. It has the opportunity to be one of the great partnerships in the NBA next season. And in a locker room full of personalities, West will just be another guy on the roster.
Rundown Archive