Boxing Archive:

June 2011
June, 30, 2011
6/30/11
11:19
AM ET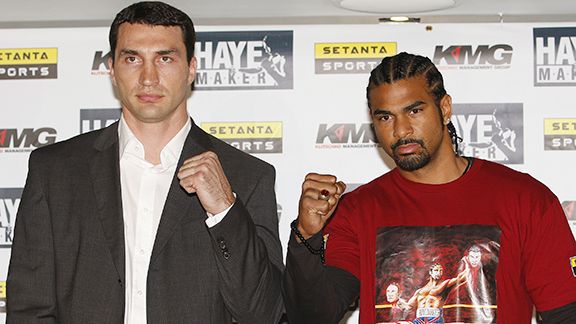 AP Photo/Kirsty WigglesworthWladimir Klitschko has plenty to disklike about David Haye, but it started with a tasteless T-shirt.
As soon as it was over, Max Kellerman knew it was the best one yet -- better even than when Bernard Hopkins and Jean Pascal glowered at each other through the previous edition of HBO's "Face Off."
"There was such a contrast between them," Kellerman said of David Haye and Wladimir Klitschko, who batted insults across the table while Kellerman, an HBO analyst, refereed the latest installment of what has rapidly become one of the most eagerly anticipated segments of a promotion for a major fight on the network.
"There was so much tension. Plus, they're heavyweights, and we haven't had a big heavyweight fight in a while. And they're two of the three best heavyweights in the world."
The contrast between the two men was evident, Kellerman says, even in the way they expressed their dislike of each other.
"At the very beginning, I asked Wladimir why he didn't like Haye, and he talks about his whole look, his earrings and so forth, and I suggested that someone's dress sense wasn't really a very good reason to hate someone," Kellerman said. "And he goes on with some other reasons -- he's filibustering, really. And I asked Haye why he doesn't like Wladimir, and he says simply, 'Because he's a d---head.' It was much the same as the way they fight: Wladimir very calculating and cerebral, Haye very quick and to the point."
The roots of the antipathy are buried in more than a heavyweight rivalry, of course: Haye's T-shirt portraying the severed heads of both Klitschko and his brother Vitali; the Briton backing out of an agreed-upon June 2009 clash, citing injury, and then -- according to the Klitschko camp -- entering negotiations to fight Vitali only to suddenly change course and instead fight Nikolai Valuev. It is a profound clash of personalities: Haye unafraid to say or do whatever he feels necessary to gain a psychological advantage, Klitschko adhering to the belief that certain things are off-limits. Like, for example, depicting beheadings or suggesting -- as Haye did on Monday at the final press conference in Hamburg before Saturday's bout -- that the fight would result in Klitschko going to the hospital.
"This game, this sport, is very intense and unfortunately there have been a lot of cases where people have been handicapped and people have died during and after fights," Klitschko said. "It's not something to joke about."
So, of course, Haye said it again.
"This is going to be the most brutal execution of a boxer that you've seen for many, many years," he said. "I'm going to go out there and absolutely destroy him, really quickly."
Having watched them up close, Kellerman suspects that the animosity is largely a one-way street, that it is deliberate provocation by Haye designed to throw Klitschko off his game.
"I haven't seen Wladimir show such an obvious dislike for an opponent before," he said. "That thoughtful, cerebral style has worked so well for him that [it seems] someone who can get under his skin, get him out of his game plan -- and who can punch -- has a chance."
If it is indeed all part of Haye's plan, if his intent is to throw his opponent off his game and force him to abandon his usual caution and fight angrily, the question is this: Will it work?
Kellerman said he doesn't "expect Klitschko to be Arturo Gatti in there." But he added, "I would be very surprised if Klitschko was not gunning for the knockout."
As for Haye's chances: Kellerman noted there are two ways that have been demonstrated for defeating Wladimir Klitschko.
"One is the Corrie Sanders way, to blitz him from the beginning," he said. "The other is to show the ability to walk through some fire. Haye hasn't shown a great chin so far. But if he's tough enough, resilient enough to walk through the fire, if he keeps coming, then maybe there's some give there. Maybe Klitschko starts casting his mind back to earlier in his career, and maybe he starts exhausting himself."
Although HBO will be broadcasting the fight, Kellerman -- whose wife is expecting the couple's second child -- will not be there. But, sudden spousal labor pains permitting, he has every intention of watching the bout from the couch. He would be doing so anyway, of course, but having observed firsthand the two men's animosity adds an extra element of anticipation.
"Just seeing the tension between them makes me want to see the fight."
June, 28, 2011
6/28/11
1:26
PM ET
When Victor Ortiz might have been forgiven for feeling at his lowest ebb, not long after his stoppage defeat to Marcos Maidana, he found himself being consoled and encouraged by one of his fellow fighters: Floyd Mayweather Jr.

"That was the first time I encountered him," Ortiz told ESPN.com on Monday as he prepared for a two-city press tour to officially announce his Sept. 17 contest against that same Floyd Mayweather. "I didn't think he knew who I was. But he said some very nice things to me. He said, 'Look, Vic, you're the one who's looked at as the next Oscar De La Hoya, the next Golden Boy, this and that. You lose, and what happens? The world forgets about you, right?'

"He said, 'Keep in mind, you're going to be doing great things one day. So don't take anybody's stuff.' And I was kinda in awe because it was Mayweather, and he knows who I am."

But if acknowledgment of that awe gives pause or suggests that perhaps Ortiz will be overwhelmed by the occasion when he meets the future first-ballot Hall of Famer in the ring at the MGM Grand Garden Arena, the rest of the conversation suggests otherwise. After all, Ortiz asserts, it was he who called out the Vegas-based superstar as a way of reinvigorating his career
-- and his earnings -- in the wake of his June 2009 meltdown against Maidana and a subsequent series of less-than-enthralling encounters (mostly with slightly shopworn veterans) in the 140-pound division he had occupied for five years.

"I was like, 'Look, I don't make any money. I have an income I could probably get at McDonald's,'" Ortiz said. "And I was like, 'Man, this is unfair and unjustified, and I'm fed up with it.' So I went to Golden Boy and I said, 'I'm going to do you guys a solid. I'm going to go up to 147 and fight [WBC welterweight titleholder Andre] Berto. And after Berto, I want Floyd Mayweather.' And they said, 'That's career suicide.' I said, 'I don't care, I'm going to knock [Berto] out.'"

He didn't quite fulfill that prediction, but he did floor Berto twice (and got up from two knockdowns of his own) to take a unanimous decision and annex Berto's belt -- and, in the process, right a ship that had been steaming toward stardom until nearly capsizing under a fusillade of Maidana's punches.

"OK, so I apologize, I came short of a knockout [against Berto]," Ortiz said. "But it's all good. I destroyed the guy's career. And then I said, 'All right, you already know who I want next. So make it happen.'"

Less than three months from now, it will happen. It will be the biggest stage of the 24-year-old Ortiz's career, and certainly the biggest purse. It would take a lot of hours at McDonald's to earn anything like what he will pocket for one night's work in Sin City. But he insists he has no intention of scooping up a sackful of dead presidents just for showing up and then going home a loser. Despite the fact that he will be the prohibitive underdog against the hugely accomplished Mayweather, Ortiz has no desire to finish second.

"Here's the thing: Everyone's like, 'Hey, it's a great payday.' Screw the payday," he said. "At the end of the day, with all due respect and excuse the language, but I want that a--."

If Ortiz is motivated, at least in part, by the opprobrium that was heaped on him following the Maidana loss, or the whispered doubts that grew louder following a lackluster draw against Lamont Peterson in the outing before the victory over Berto, Ortiz insists otherwise. But as he answers the question, the always-affable Ortiz speaks with a subtle hint of an edge in his normally cheerful voice, suggesting that, whatever he may claim to the contrary, a need to prove his doubters wrong burns just as strongly as it seemingly did when he walked with apparently renewed purpose and focus into the ring to face Berto.

"Here's the thing about me," he said. "I never gave a crap what was said about me. And I still don't. At the end of the day, I can live with myself very happy. I know who I am, what I am, where I am, where I'm going. Therefore, I don't need anybody's two cents here and there to dictate how I'm going to live my life, or even to try and justify how I will do or why.

"At the end of it all, I know where I'm going. Do they have their opinions? Good -- good for them. I don't care. Do you think I'm going to lose? Good for you. I don't care. Do you think I'm going to win? Hey, good for you, high-five. I don't care. At the end of it all, I'm just going to be me, and by being me, I'm going to be world champion for a long time."
June, 22, 2011
6/22/11
11:15
AM ET
When Wladimir Klitschko steps into the ring with David Haye on July 2, it will mark the culmination of a fight over two years in the making.
For many, it is the second-biggest fight the sport has to offer -- and the most important heavyweight bout since Lennox Lewis-Mike Tyson in 2002. It's also an opportunity to finally see the long-reigning king of boxing's (fading) glamor division in his moment of truth against a dangerous opponent in his prime.
But don't buy too much into that last part.
[+] Enlarge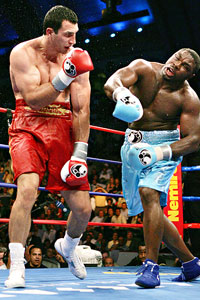 Tom Briglia/Getty ImagesWladimir Klitschko showed a fortitude many critics believed he lacked when he got off the canvas three times to outlast Samuel Peter in 2005.
Because the truth is, Klitschko has been down this road before, already conquered those demons. The fighter, often criticized for a boring style and unimpressive resume, passed that test long ago.
It has been nearly six years since his career-defining moment in Atlantic City, N.J., when a 29-year-old Klitschko -- boxing's next big thing-turned-damaged goods -- took his final shot to right a career shipwrecked by stoppage defeats to less-than-household names Corrie Sanders and Lamon Brewster. Facing unbeaten slugger Samuel Peter in a title eliminator, Klitschko did just that by getting off the canvas three times to claim a unanimous decision victory in September 2005.
It wasn't pretty. And save for some effective boxing that widened the scorecards and exposed the wide technical gap between him and the heavy-handed Peter, it was touch-and-go for Klitschko for much of the final seven rounds. Although he often held (sometimes for dear life), Klitschko ultimately survived.
It's fascinating to consider how much his reputation has changed in the ensuing years. Not only has Klitschko not been threatened since the first Peter fight (Klitschko won a rematch by 10th-round KO in 2010), it's nearly impossible to recall a time he was rocked or even hit flush. The strapping, confident champion has run off streaks of 13 wins and nine title defenses (including seven by stoppage) since that mercurial night at Boardwalk Hall.
But it was on that night that he became a fighter.
"Peter was a big puncher who was in shape in those days, and Klitschko was a guy with a suspicious chin," said veteran referee and former heavyweight contender Randy Neumann, who officiated the bout. "You put those factors together and you had an interesting fight.
"Peter knocked him down three times, and I was surprised on a couple of them that Klitschko just about made it up. Fortunately, they came at the end of the round; otherwise he was history."
Klitschko's moment of truth came in the fifth round when Peter rallied to score two knockdowns. Fading fast in the same round he had been stopped a year earlier against Brewster, Klitschko held a similar deer-in-the-headlights gaze, with body language that screamed exhaustion. Only this time Klitschko wilted but never broke; he dug deep to survive the round.
All of Klitschko's losses up to that point (including a third stoppage loss to journeyman Ross Puritty in 1998) had been more the result of exhaustion than crushing blows. And if fatigue "makes a coward out of us all," as Vince Lombardi once said, it was in that exact moment against Peter that Klitschko defeated his two greatest adversaries to date: fear and doubt.
"I thought Klitschko was gone [in Round 5], but having been a fighter myself, I like to give the guys the opportunity since they are there to fight," said Neumann, who faced the likes of Jimmy Young, Jerry Quarry and Chuck Wepner before retiring in 1977 with a record of 31-7-0. "The win was very important because Klitschko had gotten knocked dead by guys that were not great fighters.
"But I think ever since the Peter fight, [Klitschko's trainer] Manny Steward has turned him into a defensive machine with that big jab out front and he doesn't get hit now like he used to. He has matured, as well. Remember, he was pretty young back then. But that's how you make fighters. You change and you learn things. You come along, mature and improve."
While Klitschko's rise to prominence has perfectly coincided with the fall of the heavyweight division (something out of his control), you have to appreciate what the champion has made of his career since.
Critics will always point to the lack of a compelling American heavyweights as a major cause of the division's demise. Ironically, the Ukrainian Klitschko's story of redemption to become a self-made success is as idealistic as the American dream.
It's true that Haye's punching power and ability to box make him the most dangerous opponent Klitschko has faced to date. But
Klitschko already has conquered a more intimidating bully: the one within. The one who begs you to quit.
Even Haye has nothing on that opponent. And since defeating it on that fateful night in Atlantic City, Klitschko, in all the best ways, hasn't been the same.
June, 19, 2011
6/19/11
12:38
AM ET
For just a moment, let's go ahead and allow ourselves to get carried away.
In Mexico, and specifically Guadalajara, they haven't bothered to wait for indisputable proof that recently crowned junior middleweight titlist Saul Alvarez is the real deal. At home, they adore "Canelo" unconditionally.
[+] Enlarge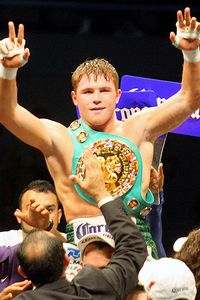 Hector Guerrero/AFP/Getty ImagesHave we already seen the best of Saul Alvarez, or was Saturday night just a hint of even bigger things to come?
It's not hard to see why. He has a look and style that are unique among Mexican fighters. He's poised and punches like a jackhammer. He comes from a boxing family and is precociously talented, yet has earned his current station by turning pro at age 15 and logging 36 fights before taking a decision over Matthew Hatton to win a vacant WBC belt in March.
Still, you don't have to search high and low for skeptics. Before Saturday night's title defense against the credible and game Brit Ryan Rhodes in Guadalajara, Alvarez's most notable career victory came last year in a knockout of faded former welterweight champ Carlos Baldomir. Even the most rabid supporters of the 20-year-old champ would have to admit that his resume was a tad thin.
And even after Alvarez scored a 12th-round TKO against Rhodes to run his professional record to 37-0-1, questions remain about who Canelo is -- and more importantly, the level of fighter he
can
be.
A fight staged in Alvarez's hometown, in front of a Mexican boxing crowd that may have no peer, against a challenger 14 years his senior -- that obviously had its benefits. And after Alvarez took control early, landed some power shots that seemingly gave Rhodes pause, then pounded the fight out of him with wilting body shots, we were again left to wonder how Canelo might respond to legitimate adversity. The only thing shorter than poor Harold Lederman's long-awaited stint as a ringside announcer in the undercard bout was the brief moment Rhodes had a shot in this fight.
But let's dream on the kid for a minute. Alvarez was in control from wire to wire. He never got impatient or emotional. He took a few shots from Rhodes -- not many -- but was utterly unfazed. He never blinked when the challenger switched stances, a tactic many believed would give the young champion trouble. Alvarez's approach -- stunning combinations sprinkled with just the right amount of body work -- all but idled Rhodes for roughly half the fight.
Was Canelo tested? Not exactly. But Rhodes (now 45-4, 31 knockouts) was no patsy. Alvarez may not be the most agile or quick-footed fighter you'll see, but his power, accuracy and ring smarts were more than enough to discourage a legitimate contender from mounting any offense of his own Saturday. Will that be enough for the Miguel Cottos, Floyd Mayweathers and Manny Pacquiaos that seem to be in his future?
We'll have to wait to find out. But for now, with Canelo having captured the boxing world's collective attention, why not imagine the possibilities?
June, 11, 2011
6/11/11
1:26
PM ET
By
Richard Fletcher
| ESPN.com
It was only the irresistible desire of Ricky Hatton at his peak that stopped Kostya Tszyu from ending his career the way he would have wanted: as a winner.

Hatton had been chasing Tszyu for years, and finally got him in the ring June 5, 2005. It was a measure of Tszyu's standing that hardly anyone gave Hatton a chance, even though he had won 38 bouts in a row and was nine years younger.

Anything less than the extraordinary performance the Englishman produced (Hatton never reached the same heights again) would not have been enough to win, but Tszyu still hung in for 11 rounds in what turned out to be his last fight.

Unable to get to Manchester, I followed the action live on British radio in the middle of the night, and was stunned when Tszyu retired in his corner with just three minutes left in their IBF title fight. Hatton had simply knocked the fight out of him.

In the end, the second defeat of Tszyu's career didn't matter. His legacy as one of the great junior welterweight champions was already secure, and on Sunday he will deservedly join Aaron Pryor and Wilfred Benitez, two other modern legends of the division, in the International Boxing Hall of Fame in Canastota, N.Y.

Tszyu had chilling power and used it to beat almost everyone in his era. Names like Julio Cesar Chavez (a fellow 2011 HOF inductee), Roger Mayweather and Zab Judah all bowed as Tszyu won 15 out of 18 world title fights, finishing with a record of 31-2 (with 25 knockouts). American Vince Phillips was the only other fighter to beat him.

What struck me after the Hatton fight was Tszyu's magnanimity in defeat. Once Hatton had finished celebrating, the deposed champion took the ring microphone to congratulate his conqueror and offered to give him any advice he might need in the future.
It was the gesture of a man who knew the torch had been passed, and guaranteed Tszyu the dignified exit he deserved.

A couple of months ago, British referee Dave Parris, who handled the fight, told me the bout was one of the best he had worked in his 31 years in the sport. That largely came down to Tszyu. Despite the excitement generated by Hatton's swarming rushes, Parris said there was always the possibility that Tszyu could pull out a big punch. Fortunately for Hatton, he didn't.

During regular conversations with Hatton's former trainer, Billy Graham, Tszyu's name always came up. For Hatton, getting a fight with Tszyu, who had established himself as the undisputed No. 1 at 140 pounds, became like a pursuit of the Holy Grail. Graham, while retaining the utmost respect for Tszyu, always maintained that Hatton could beat him -- and he was right.

But there is heavy irony there, in that Hatton probably will never make it to Canastota. He failed to build substantially on his momentous victory over Tszyu, losing his two biggest fights after that to Floyd Mayweather Jr. and Manny Pacquiao.

Tszyu, meanwhile, can rest easy in the knowledge that his place in history is safe forever.
June, 9, 2011
6/09/11
1:43
AM ET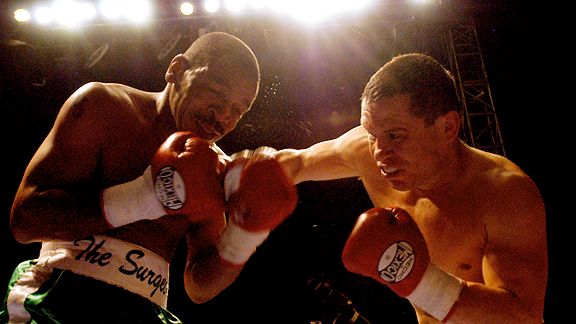 AP Photo/Marco UgarteJulio Cesar Chavez was revered for his resiliency, including (twice) avenging a loss to Frankie Randall.
In a nation where boxing has a rich tradition and great champions are revered, Julio Cesar Chavez surely stands above the rest as Mexico's supreme fighter.
Chavez, who enters the International Boxing Hall of Fame on Sunday, was the first Mexican boxer to become a champion in three weight classes. His long career, spanning more than 100 victories, is the type associated with the long-lasting fighters of yore.
There were faster fighters than Chavez, flashier boxers and superior one-punch sluggers, but he overcame them all until, with the inevitable decline setting in, he lost in a stunning upset to a talented and inspired Frankie Randall in 1994.
Four of Chavez's six defeats -- two of them against superstar Oscar De La Hoya -- came in his last 17 fights. He avenged three losses in rematches.
At his best, Chavez was an almost perfect fighting machine. He was a relentless aggressor who punched hard and fast, and never seemed to tire. If Chavez got caught by hard blows, he could shrug them off, as he showed when withstanding a full-impact right hand from Roger Mayweather -- something of a Thomas Hearns of the lighter weight classes -- in a 1985 bout.
No, Chavez said afterwards, Mayweather hadn't hurt him. "I have too much chin," he said through an interpreter.
Too much chin, too much everything, for the opponents who faced him.
Chavez's second-round TKO of Mayweather marked his U.S. television debut -- on CBS, in an era when weekend-afternoon bouts were a network TV staple -- but his prowess had been noted by boxing insiders at least two years earlier. "Chavez, all of 19, displayed animal ferocity and fearsome punching power," Richard Hoffer noted in the Los Angeles Times after Chavez had destroyed a boxer named Romero Sandoval in two rounds in an undercard bout at the old Olympic Auditorium in June 1983.
Consistency was to become Chavez's keynote. He just kept on winning, capturing his first championship at 130 pounds in 1984 and going on to win belts at 135 and 140 pounds. A bid for a fourth title failed when he was considered fortunate to escape with a draw against welterweight champion Pernell Whitaker at the Alamodome in San Antonio in 1993.
Yet if one mark of a fighter's greatness is his ability to win big fights against opponents considered to be of equal stature, Chavez passed that test with his dramatic victories over Edwin Rosario and Meldrick Taylor.
When Chavez faced Rosario, the lightweight champion, outdoors at the Hilton Hotel in Las Vegas on Nov. 21, 1987, it was considered essentially an even fight. Chavez was a slight 7-5 favorite at the Las Vegas sports books, but seven of 14 reporters polled by USA Today picked the bigger and supposedly stronger Rosario to win -- and six of them thought he would do so by knockout. However, the eagerly awaited bout turned out to be one-sided, with Chavez wearing down Rosario and punishing him severely before the Puerto Rican boxer's corner threw in the towel in the 11th round.
"The Culiacan cutie (for his baby face, not his style) has all the ingredients for all-time greatness," veteran boxing writer Jack Fiske enthused in the San Francisco Chronicle.
At the finish, Rosario's left eye was closed, he was cut over the right eye, and blood was coming from his mouth. This might have been Chavez's most masterful performance. Everyone knew Chavez was a tough fighter, but he showed skills in his domination of a hard-hitting champion. "Chavez proved he was an excellent boxer by repeatedly making Rosario miss by ducking under and away from Rosario's big punches," noted long-serving reporter Royce Feour in the Las Vegas Review-Journal.
It was this performance that established Chavez as a special type of fighter in the minds of the American boxing public. "Rosario's blood-smudged and distorted face was graphic proof that attention must now be paid to Chavez," wrote Phil Berger in the New York Times.
Chavez faced another major challenge in what was deemed basically an even-money fight when he took on unbeaten Olympic gold medalist Meldrick Taylor in a clash of junior welterweight champions on March 17, 1990. This, of course, was the fight that Chavez famously won with just two seconds remaining in the last round. Chavez was behind on points, but referee Richard Steele -- who would not have been aware of the judges' scores -- deemed Taylor in no fit state to continue.
The controversy lingered seemingly for years. Taylor was on his feet after a right-hand blow had blasted him to the canvas in the closing moments, but he was a bloodied, beaten-up fighter. Although Taylor was two seconds away from victory, the argument goes, just one more big punch from Chavez could have done lasting damage. "My first response was that Steele had done the wrong thing," wrote experienced reporter Stan Hochman in Taylor's hometown newspaper, the Philadelphia Daily News. "When I heard ... that X-rays revealed a shattered bone near Taylor's left eye, that tests showed complete dehydration that kept him in the hospital overnight, a possible blood clot in the kidney area, I thought that perhaps Steele had done the right thing."
While Chavez scored many triumphs over worthy opponents, including a number of world champions, he will probably be most remembered for that controversial, and indeed sensational, win against Taylor.
Mexican aficionados adored Chavez, and the reasons are manifold. To distill the sentiment, though, it seems most accurate to say he was beloved for being a fighter who, for many years, gave his all, who came into the ring in tremendous condition and who beat everyone put in front of him -- a fighter who was reliable and determined. There was a hint of surrender in his first rematch with Frankie Randall after Chavez was cut in a clash of heads, declined to continue but won narrowly by technical decision ("He shook his head twice to me," Nevada commission doctor Flip Homansky explained at the postfight press conference). Chavez didn't answer the bell for the ninth round in his rematch with De La Hoya (although Chavez said afterwards that his corner had stopped the bout). But he already had given so much of himself, in so many fights, that these were minor blemishes on a wonderful record -- and the loss by retirement against De La Hoya was an honorable defeat: "Chavez had shown his valor and given the crowd and TV viewers their money's worth," I reported from ringside for Boxing Monthly.
In a historical context, Chavez could have been matched, one imagines, against history's greatest fighters from 130 to 140 pounds and fought with distinction against the very best of them. His place in the Hall of Fame has been well-earned.
June, 5, 2011
6/05/11
12:42
AM ET
By
Franklin McNeil
| ESPN.com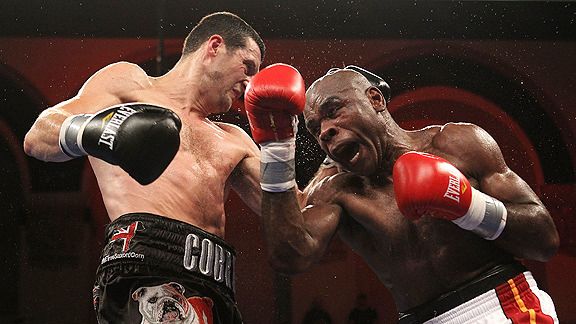 Al Bello/Getty ImagesCarl Froch was more active than Glen Johnson, but he'll need a better plan against Andre Ward.
There is a formula for beating 42-year-old Glen Johnson, and super middleweight titlist Carl Froch revealed it Saturday night in retaining his belt.
The winning formula consisted of outpunching Johnson, who tried desperately to finish the fight early with hard overhand rights.
Froch was the busier fighter, and with each passing round the hard-hitting Johnson saw his chances decrease.
When the fight ended, two of the three judges ruled that Froch's formula had sealed the deal. Mark Green had it 116-112 and John Stewart also gave the nod to Froch 117-111. Nobuaki Uratani thought they fought to a 114-114 draw.
With the WBC 168-pound belt still securely strapped around his waste, Froch immediately turned his attention to the man whom most consider to be the division's best fighter, WBA titleholder Andre Ward.
And Froch quickly offered that he also has the formula to hand Ward his first professional loss. It's a message Froch delivered a couple of days before facing Johnson.
"Me and my trainer have got the formula, and you will find out why I said that when we box," said Froch, after improving to 28-1-0 on Saturday. "I believe I can win. I know I can beat this guy."
Froch isn't short on confidence, which is to be expected of a talented champion. But it's one thing to have a formula for Johnson and to execute it, another to reasonably expect the same result against Ward.
Johnson is an intelligent fighter, a former light heavyweight champion who is second-to-none in determination. But he now fights in spurts.
His best shot at upending Froch was to land a big punch. But Froch never let the slightly slower Johnson settle into a rhythm. His winning formula against Johnson was to throw more punches, land more punches and be the faster fighter.
That strategy won't work against Ward, who is faster than Froch, is more refined defensively and a purer boxing.
None of that matters to Froch, who won't reveal much detail about his strategy for Ward. Froch, however, makes no secret that he plans to be the guy moving forward.
There is one problem with that approach: Ward fights terrifically moving backward. It's one of the skills that make him such a special talent.
He can fight successfully moving backward or forward; he's comfortable participating in a slugfest or a technical boxing match.
In fact, there is no formula to beat Ward, 27, at this time, other than to hope he makes a mistake. And thus far in his pro career, the wise Ward (24-0-0) has shown no sign of being prone to errors.
All the talk of formulas doesn't concern Ward. He's heard it so many times in the past that he now regards it as part of the opposition's prefight ritual.
"Everybody feels they have the formula," Ward said. "But like I always say, 'When these lights turn on, it's a matter of who can get the job done.'
"That's what it all comes down to."
In 24 pro bouts, Ward has always been the man to get the job done. Expect him to do the same against Froch.
June, 2, 2011
6/02/11
12:18
AM ET
It was author F. Scott Fitzgerald who famously wrote, "There are no second acts in American lives." But even Fitzgerald never met a figure as stubborn and unyielding as 42-year-old Glen Johnson.

The fighter dubbed "The Road Warrior" has an opportunity Saturday to carve out a third act (or is it a fourth? Who's counting at this point?) when he challenges super middleweight titlist Carl Froch (27-1) in the semifinals of the Super Six World Classic at Boardwalk Hall in Atlantic City, N.J. (Showtime, 9 p.m. ET).

"I definitely feel a little bit of urgency for this fight -- I mean, I'm not getting any younger," Johnson said during last week's international media conference call. "I'm not going to take any fight for granted."

Although best characterized as a journeyman fighter, Johnson (51-14-2) has made a career out of defying any logical expectations or labels set upon him. He's pure substance in a sport rabidly obsessed with style. A refreshingly honest fighter with a nickname earned through nearly two decades of gritty work that has been scattered with heartbreaking and questionable decision losses in his opponents' backyards.

The Jamaican-born Johnson, who fights out of Miami, had already enjoyed his unlikely and redemptive second act as the feel-good story of 2004. As a hard-luck 35-year-old with nine losses, he ran off consecutive upsets of Clinton Woods, Roy Jones Jr. (by stunning knockout) and Antonio Tarver to win the world light heavyweight championship and fighter of the year honors.

But after losing the title to Tarver six months later in the rematch, Johnson would go on to lose all four of his title opportunities to regain the belt over the next five years. When a spot opened up in the Super Six tournament last year following an injury to Mikkel Kessler, Johnson jumped at the opportunity, dropping weight and stopping Allan Green in November to earn a spot in the semifinals.

With all the accolades thrown at 46-year-old Bernard Hopkins over the past few weeks -- whom Johnson calls "an inspiration to us old guys" -- it went mostly unnoticed as a 42-year-old light heavyweight moved down in weight to enter this tournament and won his first bout, all on short notice. No simple feat.

And now Johnson is one victory away from a title in a division he hasn't called home since losing four straight fights more than 10 years ago. A showdown with 168-pound titlist and rising pound-for-pound contender Andre Ward (24-0) awaits the winner this fall in the Super Six final.

"My advantage is being Glen Johnson, and I think I know boxing inside and out," Johnson said. "I'm going to go in there confident and use my skills to my potential, and you'll see me come out victorious. I'm not concerning myself too much with Carl Froch's plan or what he's going to do, to be honest with you. I'm more concerned with what I'm going to do. I have a winning formula and I don't think Carl Froch is the one who can tell me different."

Many are licking their lips at a possible Froch-Ward final, with the winner expected to face Lucian Bute (28-0), yet another titlist, to decide supremacy in the loaded super middles division. But don't print the tickets just yet.

Although he is far from the favorite to crash the Super Six party, Johnson -- a salt-of-the-earth type in a sport that typically isn't kind to such folks -- is the last fighter you can count out. As Lou DiBella, who is promoting Saturday's fight, recently said, "If you don't like Glen Johnson, then you don't like boxing."

Being overlooked hasn't fazed Johnson in the least. In fact, it's all the former construction worker -- who boxed for the first time at age 20 and didn't turn pro until turning 24 -- has ever known. But in a year already littered with upsets and unexpected feats by fighters considered to be yesterday's news, an improbable return to glory for Johnson suddenly seems eminently possible.

"I know I have a lot of skills and talent left in me and I'm looking forward to showing that to the people," Johnson said. "I know there are people still skeptical about what I can do at my age, but I actually get excited when people focus on my age, because that means they are not focused on my skills and what I bring to the table."