CHARLOTTE, N.C. -- There's no doubt a 2013 prime-time victory over the New England Patriots was a watershed moment for the Carolina Panthers.
Carolina had rattled off five straight wins after a 1-3 start following four straight non-winning seasons, and the Panthers proved with a 24-20 victory that they could defeat a traditional power in the spotlight of Monday Night Football.
It also was a watershed moment for quarterback Cam Newton.
The first pick of the 2011 draft had gone 6-10 and 7-9 in his first two seasons. He'd started his third with eight interceptions to 13 touchdown passes in nine games.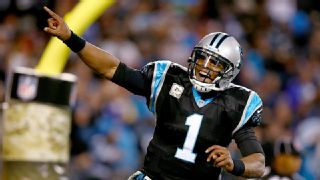 He was coming off a 10-9 victory at San Francisco in which he'd thrown for only 169 yards. But against the Patriots, Newton looked every bit the equal of Tom Brady, throwing three touchdown passes, completing 67.8 percent of his throws and rushing for 62 yards.
Could Sunday's game at New England (2-1) be another watershed moment for Newton and the Panthers (2-1)?
Since winning the NFL MVP Award and reaching the Super Bowl in the 2015 season, Newton has gone 8-9 as the starter. He's thrown 18 interceptions to only 21 touchdowns, including four interceptions to two touchdowns this season.
He's still recovering from offseason surgery to repair a partially torn rotator cuff, although he threw more this week in practice than last. Fantasy football owners are either benching Newton or dropping him altogether.
So Newton needs something positive to happen, as was the case against the Patriots in 2013. The entire team does after a 34-13 loss to a New Orleans Saints team that came in with an 0-2 record and statistically the worst defense in the NFL.
But particularly Newton.
The statement in the 2013 game wasn't the controversial no-call on middle linebacker Luke Kuechly against Patriots tight end Rob Gronkowski on the final play. Instead, it was the previous series that began with 6:32 remaining and the Panthers trailing 20-17.
Newton began the drive with a 4-yard completion to Brandon LaFell. He went on to complete 5 of 8 attempts, including the game-winning 25-yard touchdown to Ted Ginn Jr. with 1:09 left. He also had a 15-yard scramble on third-and-6 to keep the chains moving.
He took the spotlight and ran with it.
"Just the fact that we were able to come back and score a touchdown, come out on the winning end on that last two-minute drive," Carolina coach Ron Rivera said. "That's what the significance was, especially against a team like them."
The Panthers have proved they can win big games since. They had to win their final four games in 2014 to make the playoffs, then won a playoff game against the Arizona Cardinals.
They went 15-1 during the 2015 regular season and dismantled the Cardinals 49-15 in the NFC Championship Game.
But the turning point for the franchise began in 2013 against New England.
"That was a huge momentum boost for our team at that time, to win a game of that magnitude, a prime-time game against the Patriots," linebacker Thomas Davis said. "We understand we have huge stakes this weekend. It's not an end-all for us by no means.
"Really, we've proven we know how to win [big] football games around here."
But the Panthers won a lot of big games because Newton played with a certain swagger. He hasn't had that lately. Last season was so disastrous that during the offseason Rivera said his quarterback needed to rebuild his confidence.
Judging by the way Newton has missed seemingly the easiest throws during the first three games, with two of his three interceptions against New Orleans simply bad throws, he's still searching.
Another win against the Patriots could do the same thing for him now that it did four seasons ago.
"At that point, we hadn't had a lot of luck winning games in the last minute," Rivera recalled. "That was one of the games that we could point to as the watershed for us, being able to get past that. That was one of those defining moments for us as a football team."
And for Newton.